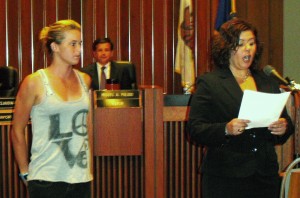 Surfing Champ Courtney Conlogue and Councilwoman Michele Martinez
The Santa Ana City Council honored a great many good people at tonight's City Council meeting.  Amongst them were several notable female athletes.
Councilmember Michele Martinez gave a certificate of recognition to Santa Ana resident Courtney Conologue, who recently won the Hurley U.S. Open Women's Surfing Champtionship in Huntington Beach.
Martinez also recognized Santa Ana resident Julie Kindstrand for taking first place at the World Cup Skateboarding Pro Tech Pool Party.  (See the pictures below). Continue reading→