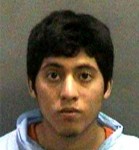 Kevin Jonas Rojano-Nieto, a 21-year old Santa Ana man, got lucky when County Superior Court Judge M. Marc Kelly sentended him to a 10-year prison sentence on April 3, 2015, after Rojano-Nieto sodomozed a 3-year old relative. Kelly could have sentenced Rojano-Nieto to a state-mandated life term in prison. The outcry after Kelly's lame sentence led to an aborted attempt to recall the Judge.
On Friday Rojano-Nieto's luck ran out as the California State Supreme Court rejected a defense appeal, clearing the way for the Fourth Appellate District in San Diego to finalize its reversal of the sentence Friday, according to the O.C. Register.
Here's what to do if you are involved in a car accident. If you or someone you know has been in an accident contact Sasooness Law Group, APC
Office: 818-922-7700 Cell: 714-912-2520 (text or call) Email: mroyer@saslg.com www.saslawgroup.com
What that means is that the Appeals Court's ruling that Rojano-Nieto be re-sentenced to the state law's mandated 25-years-to-life prison term will be allowed to stand.
Kelly paid for his inept original sentence as he was moved to the Family Law Court in Orange. He will however have to live with his outrageous sentencing comments, "He was playing video games and she (the child) wandered into the garage. He inexplicably became sexually aroused but did not appear to consciously intend to harm (the victim) when he sexually assaulted her. … There was no violence or callous disregard for (the victim's) well-being."
Kelly actually argued that the state-mandated sentence violated the state and federal constitutions regarding cruel and unusual punishment.The Appellate Court disagreed as did much of the public.
The Appeals Court panel based their decision on a state Supreme Court ruling in which a 17-year-old's first-degree murder conviction for a shooting during a marijuana farm robbery was knocked down to manslaughter. However the defendant in that marijuana robbery was a juvenile while Rojano-Nieto was not a juvenile and he did not commit his crime due to a panicked impulse, according to the Appellate Judges, who said that "Rojano consciously decided to sexually molest (the victim), as shown by the fact that he locked the garage door, promised to buy her Cheetos, sodomized her and then decided to have her masturbate him."
While the little girl's injuries were not deemed serious the Appellate Judges found that Kelly was rong when he argued that her general well-being since the attack and lack of physical trauma weighed in Rojano-Nieto's favor.
The Appellate Judges correctly ruled that "A sex offense against a small child is a grave offense because of the vulnerable nature of the victim and the risk of psychological harm to the child, regardless of any associated physical injury."
The Appellate Judges did not buy Rojano-Nieto's remorseful performance at his original trial, unlike the ridiculous Kelly. Instead they noted that Rojano-Nieto continued to molest the victim after the sodomy and did not express remorse right away. He actually refused to admit what he did when the police interviewed him and he denied his actions to his mother – until after he was finally confronted with the full extent of the little girl's injuries.