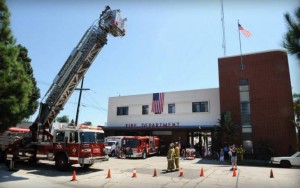 How often do you get to watch live fire demonstrations, put out pretend fires and try on firefighter gear?
Orange County families will be able to do all that and learn about fire safety during the Orange County Fire Authority's eighth annual Open House on Saturday, Oct. 12, 2013.
The Open House will be held at the OCFA Regional Fire Operations & Training Center, located at 1 Fire Authority Road in Irvine, from 10 a.m. to 3 p.m. (Jamboree and Tustin Ranch roads are the main cross streets.)
"Fire Prevention Week will wind down with an incredible public safety event," OCFA Fire Chief Keith Richter said. "Our annual Open House is a great way to show our residents how we train and prepare for every emergency."
Along with meeting some local firefighters and checking out cool demonstrations, we're told visitors will be armed with a raft of best practices, including strategies for preventing kitchen fires. For more information, visit the OCFA's website.
Click here for a list of OCFA locations, including firehouses in Santa Ana, that will be open to the public as well.