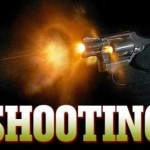 An unidentified man struck another man in the head with a beer bottle in a parking lot on the 2200 block of North Fairview Street last night at around 10:50 p.m., according to the OC Register.
The man who was hit with the bottle then got a weapon from his car and he shot his attacker in his lower torso, twice.
The shooter then took off in his white mini pickup truck, headed east on Trask Ave.
The SAPD has determined that there was no robbery. They are still not sure if the fracas was gang-related.
The shooting victim was transported to a local hospital with non-life-threatening injuries.
Police did not have a description of the suspect on Sunday morning and ask anyone with information to call 714-834-4211.
This incident happened in Santa Ana's Ward 3, which is currently represented by Santa Ana Council Member Angie Amezcua. She has chosen to allow her term to end in November.