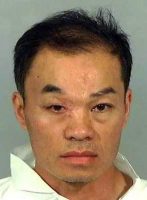 Thang Van Nguyen, 48, a Garden Grove man, was sentenced to only nine years in prison, on Friday, for attacking and seriously injuring his wife with a meat cleaver, according to the O.C. Register.
Nguyen and his wife got into an argument before 7 a.m., on Jan. 19, 2016, in their Garden Grove apartment. He then attacked her with a meat cleaver, which left her very badly injured with deep lacerations.
Nguyen attacked his wife while their 8-year-old son and his teenage brother watched the mayhem unfold. They were not harmed during the attack.
Nguyen's wife was put in a medically induced coma for two months while doctors tried to repair the damage to her brain.
Last year Nguyen was found guilty by a jury for attempted voluntary manslaughter, mayhem and corporal injury on a spouse. Unbelievably his wife, who survived the attack, testified for the defense!