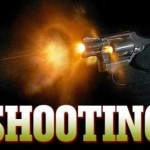 Santa Ana Police Department
Advisory: SAPD Detectives Make Arrest of 17-Year Old Suspect In 6/27/2016 Homicide
Victim/Deceased: Jesus Leon (19) Santa Ana
On 6/27/16, at 11:13 pm, Santa Ana Police responded to 1000 Block of West 2nd Street, regarding an unknown trouble call. Upon arrival, officers discovered the victim, 19 year old Jesus Leon from Santa Ana, suffering from a gunshot wound to the upper body.
Leon was unconscious and unresponsive. The Orange County Fire Authority arrived on scene and pronounced Leon deceased.
Leon's family members provided information that assisted detectives in identifying a possible suspect, identified only as a 17 year old juvenile from Santa Ana. The suspect was located at a residence in Santa Ana, and arrested. A firearm was recovered when the suspect was taken into custody. The suspect was subsequently booked at Orange County Juvenile Hall for Murder.