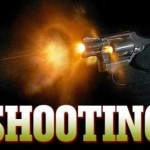 A 29-year old unidentified man was seriously wounded in a shooting Friday night in Santa Ana, at an unknown address, just before 9 p.m., according to the O.C. Register.
The shooting apparently happened in the backyard of an unidentified residence, according to the SAPD.
The victim was shot at least once in his upper torso. He ended up at a local hospital where he was in stable condition.
Police investigators were able to recover a handgun that they believe may have been used in the shooting. However no suspects have been identified. Nor has a motive been determined.
One of our readers reported a commotion at 1 a.m. at Main and Warner however that was likely a different incident as the shooting happened closer to 9 p.m.