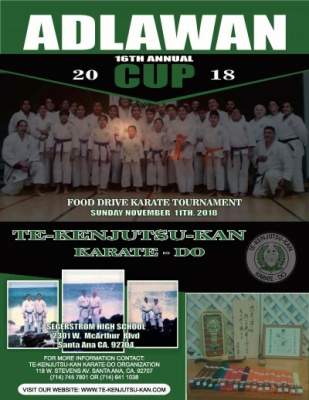 The Te-Kenjutsu-Kan Adlawan Cup Food Drive Karate Tournament is set for this Sunday, Nov. 11, from 9 AM – 4 PM
at Segerstrom High School, located at 2301 W MacArthur Blvd., in Santa Ana.
This event focuses on fun, fast paced and exciting competition. All donated canned goods and paper goods go to the The WisePlace a Shelter for women in Santa Ana.
Please do not donate any canned food, rice or pasta. Please donate Paper Towels, Toilet Tissue, Body Soap or Shampoo.
Please enter the venue off of Alton.
Please go to www.te-kenjutsu-kan.com to register online or to get forms.