SANTA ANA, Ca. (January 14, 2022): The Orange County Sheriff's Department today promoted 33 personnel, including two Assistant Sheriffs.
Assistant Sheriff Jeff Puckett will oversee the Department's Custody Operations Command, one of the largest jail systems in the country. This includes managing collaborative efforts with community partners for inmate programming focused on re-entry services and adopting an integrated services approach for inmates with mental health and substance use disorders.
Assistant Sheriff Andrew Stephens will oversee the Investigations and Special Operations Command, which includes the Investigations Division, Orange County Crime Lab, Orange County Coroner, Special Operations, and Emergency Management.
"Assistant Sheriffs Puckett and Stephens have a demonstrated history of effective and innovative leadership in their tenure with the Orange County Sheriff's Department, and I look forward to the contributions they will make in their respective commands," said Don Barnes, Orange County Sheriff-Coroner. "They embody what it means to serve with integrity, humility and a genuine care for the men and women of this department and the residents of Orange County."
Thirty-one additional personnel also were promoted today including seven investigators, ten sergeants, eight lieutenants, and six commanders.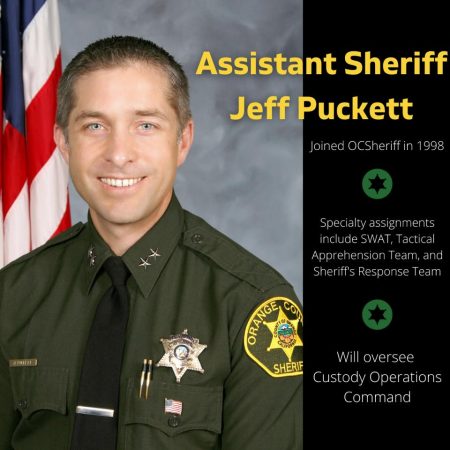 Assistant Sheriff Jeff Puckett
Assistant Sheriff Puckett joined the Sheriff's Department in 1998 as a Sheriff's Special Officer before becoming a deputy in 1999. He has served as a patrol deputy and investigator and held multiple specialty assignments including SWAT, Tactical Apprehension Team, and the Sheriff's Response Team.
Assistant Sheriff Puckett has served in leadership positions in the Custody, Training, and Patrol commands. Most recently, he served as the Southwest Operations Division Commander, overseeing operations for seven contract cities, the traffic office and the Behavioral Health Bureau.
He has a bachelor's degree in criminal justice from Chapman University, a master's degree in emergency services administration from California State University, Long Beach, and is a graduate of the FBI National Academy, Class #279.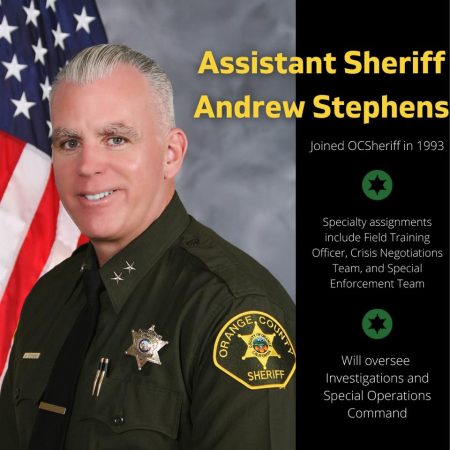 Assistant Sheriff Andrew Stephens
Assistant Sheriff Stephens joined the Department in 1993 as a deputy sheriff where he worked in custody operations before transferring to patrol to serve the city of Lake Forest. As a deputy, he earned several specialty assignments including Field Training Officer, Critical Incident Response Team, Crisis Negotiation Team, Special Enforcement Team and Directed Enforcement Team.
In leadership roles, Assistant Sheriff Stephens has served in the Custody, Professional Services, Patrol Operations, and Investigations commands. He was promoted to Commander in 2019 and assigned to investigations, which included the Criminal Investigations Bureau, Special Investigations Bureau, and the Orange County Intelligence Assessment Center. Most recently, Assistant Sheriff Stephens served as the Training Division Commander, overseeing approximately 300 recruits a year at the Orange County Sheriff's Regional Training Academy and the daily operations of the Sandra Hutchens Regional Law Enforcement Training Center.
Assistant Sheriff Stephens has a bachelor's degree in criminal justice from California Coast University and is a veteran of the United States Marine Corps.