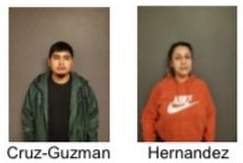 IRVINE, Calif. (April 13, 2021) – Yesterday afternoon, IPD officers arrested 35-year-old Joshua Thompson for stealing mail in the area of Portola and Arrowhead. This morning, 27-year-old Oscar Cruz-Guzman and 29-year-old Emily Hernandez were arrested for mail theft in the area of Montanas Este and San Joaquin.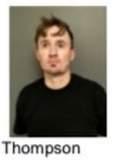 Yesterday, shortly after 3:00 p.m., witnesses observed an adult male in a white Toyota Scion stealing mail from unsecured mailboxes in the area of Portola and Arrowhead. A witness on a bicycle gave chase while another witness called IPD. The bicyclist saw an officer in the area and was able to point out the suspect vehicle as it drove away. The officer stopped the suspect and located piles of mail on the front passenger seat. It was determined Thompson stole mail from 39 different victims in Irvine and Mission Viejo. He was arrested and booked at the Orange County Jail for mail theft with a prior conviction.
At approximately 5:00 a.m. this morning, an officer was patrolling a neighborhood near Montanas Este and San Joaquin when he noticed a vehicle leaving the area. He stopped the vehicle driven by Oscar Cruz-Guzman, and learned he had active warrants for drug related offenses. A search of the vehicle revealed several pieces of stolen mail from two victims in Irvine. A female passenger in the vehicle, Emily Hernandez, had several master mailbox keys in her possession. Hernandez was arrested for mail theft, possession of burglary tools and possession of narcotics. Cruz-Guzman was arrested for outstanding warrants, mail theft, possession of burglary tools and drug paraphernalia.
Mail thieves typically seek credit cards or mail containing personal identifying information to be used for fraud related crimes. Please retrieve your mail regularly to help avoid becoming a victim.