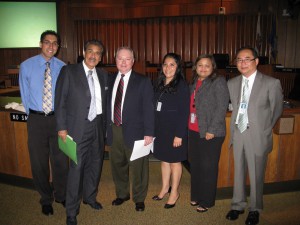 From left to right: Arturo Sandoval, Office of Senator Lou Correa;
Jess Araujo, Law offices of Dimarco, Araujo, & Montevideo,
Mark Lawrence, Executive Assistant to the City Manager, City of Santa Ana; Beatriz Fernandez, Partnership Specialist, U.S. Census Bureau
Sneha Thakor Desai, Assistant Regional Census Manager for Partnership, U.S. Census Bureau; Nhi Ho, Partnership Team Leader, U.S. Census Bureau.  Photo by Cynthia Pena.
The U.S. Census Bureau held the first City of Santa Ana Complete Count Committee (CCC) Kickoff event of the year today at 1pm at the Santa Ana City Council Chambers.
Santa Ana Mayor Miguel Pulido has appointed leaders of non-profit organizations, businesses, faith-based organizations, and schools to form the committee. Continue reading→