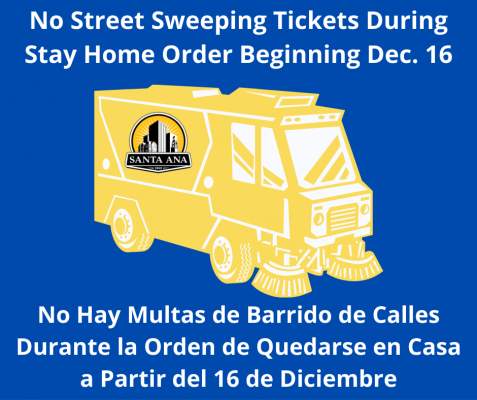 The City of Santa Ana is temporarily stopping the issuance of street sweeping tickets beginning today, Dec. 16, 2020, due to the Governor's Regional Stay Home Order.
No street sweeping tickets will be issued at least until Jan. 4, 2021, under the executive order signed by City Manager Kristine Ridge. If the Regional Stay Home Order remains in effect longer for Orange County, the street sweeping ticket suspension will continue until the Stay Home Order is over.
All other City parking fees, rules, regulations, and citations will remain in effect.
The City hopes this will allow the residents of Santa Ana to safely enjoy the holidays at home and comply with the Stay Home Order.
Residents are still asked to move their vehicles whenever possible on street sweeping days to help us clean our roadways and keep Santa Ana beautiful.
No Hay Multas de Barrido de Calles Durante la Orden de Quedarse en Casa
La Ciudad de Santa Ana está deteniendo temporalmente la emisión de multas de barrido de calles a partir del miércoles 16 de diciembre de 2020, debido a la orden de quedarse en casa regional del gobernador.
No se emitirán multas de barrido de calles al menos hasta el 4 de enero de 2021, según la orden ejecutiva firmada por la gerente municipal, Kristine Ridge. Si la orden de quedarse en casa regional sigue vigente por más tiempo, la suspensión de multas de barrido de calles continuará hasta que termine la orden de quedarse en casa.
Todas las demás tarifas de estacionamiento, reglas, regulaciones y citaciones de la Ciudad permanecerán en vigencia.
La Ciudad espera que esto permita a los residentes de Santa Ana disfrutar de los días festivos de manera segura en casa y cumplir con la orden de quedarse en casa.
Todavía se les pide a los residentes que muevan sus vehículos cuando sea posible en los días de barrido de calles para ayudarnos a limpiar nuestras calles y mantener a Santa Ana hermosa.