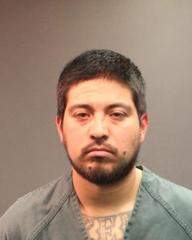 Advisory: SAPD Detectives Arrest Suspect For Domestic Violence and Attempted Robbery Case
On February 11, 2019, Santa Ana Police responded to a domestic violence call involving a 26 year-old woman and her 1 year-old son. The victim was attempting to take her child to the doctor when her boyfriend, 28 year-old Fernando Becerra, became upset and threatened to kill her and their son, then commit suicide. Becerra threatened the victim by brandishing a switchblade. Becerra had also repeatedly threatened to kill her while brandishing a handgun. The victim feared for her life and the life of her child and was placed in a shelter for her safety.
On February 12, 2019, at approximately 11:30 AM, Officer's responded to a call of an armed robbery at 1801 S. Main Street (Mariscos Hector's restaurant). The suspect, a male Hispanic adult, attempted to rob the business while brandishing a handgun. The suspect fled prior to officer's arrival in a white Lexus sedan. While officers were viewing surveillance video of the crime, an employee at the restaurant recognized the suspect to be Becerra, the boyfriend of a co-worker. Becerra was also described as driving a white Lexus.
During the officer's investigation, SAPD Communications Center received a call from Becerra claiming that his wife and child were abducted. Officers responded to the suspect's residence located in the 2200 block of S. Broadway Street and detained Becerra for Robbery detectives.
SAPD Robbery Detectives responded and took over the investigation. Based on the information and evidence gathered, the Robbery detectives served a search warrant at Becerra's residence. Detectives located a loaded handgun, a BB gun, and clothing used by the suspect during the attempted robbery.
Becerra was booked at the Orange County Jail for Domestic Violence and Criminal Threats and his bail has been set at $1,000,000.00. SAPD Robbery detectives have also submitted the Attempt Robbery case to the Orange County District Attorney's Office for filing.