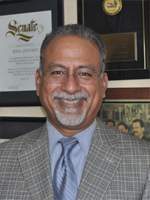 Welcome to our New City Manager, Raul Godinez (and Reason Why I Voted "No" on his Contract)
By: Santa Ana City Councilman Jose Solorio

After conducting a statewide search, and holding in-person interviews with the top candidates, the Santa Ana City Council selected Raul Godinez as our next City Manager.
Raul has previously worked in the cities of Oakland, El Monte, Lynwood and Santa Ana. Most of his prior posts were in Public Works departments, but in El Monte he served as their City Manager.
When I was in the State Assembly, Raul and I successfully worked to connect two neighborhoods in Santa Ana that had dirty water wells to the City's water system. I have always had positive and productive interactions with him. However, although I am supportive of his appointment, I could not vote for his contract last night.
The Council majority voted to pay him about $490,000 a year in salary and benefits and included a severance clause that guarantees him a year in compensation pay if he is let go during the first year. Here is the original staff report and revised contract terms, which describes the $285,000 in base pay and other compensation benefits. The final amount was reduced from the original offer, but for various reasons I still believe the amount is excessive.