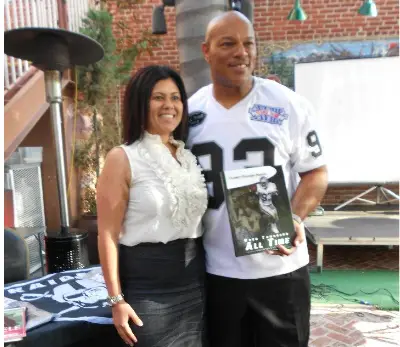 Celebrity Publishing partnered with TKO Youth Boxing Club for the launching of Greg Townsend's Collector's Edition titled, All Time, on Saturday April 28th, at 4 pm.  The book launch and signing party was hosted at Original Mike's in Santa Ana.
Everyone had a great time meeting, greeting and taking pictures with Greg Townsend! He is a very kind man and welcomed all who approached him. Everyone enjoyed themselves, and Greg especially was ecstatic to receive so much support from family, friends and Raider fans.
The event was fun and there were raffle prizes given away every 30 minutes. These prizes included Raider footballs, jerseys, caps, and plaques. All of the prizes were autographed by the man himself.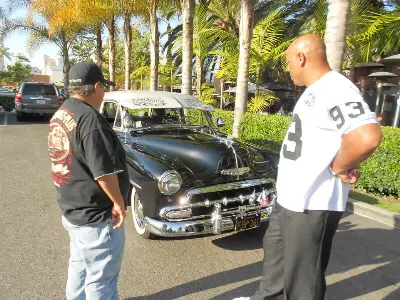 A Raiders fan showed up with a classic Chevy automobile, which was decked out with Raider stickers and signs! Greg took the time to autograph the car.
Original Mike's atmosphere was festive…with couches in the outdoor patio, tables all around for guests to enjoy their food and interact one-on-one with Greg. The DJ played tunes everyone loved…the night even ended with dancing! It was an evening to remember for all Raider fans.
Greg Townsend will also be signing books this weekend, May 5th and May 6th at the Santa Fe Springs Swap Meet ( 13963 Alondra Blvd Santa Fe Springs, CA 90670). His booth will be located near the snack bar area by the main stage! If you missed the book launch at Original Mike's, come out this weekend to the Santa Fe Springs Swap Meet to meet the legendary player!  A link to the event can be found here: http://www.eventbrite.com/event/3465795287
Greg Townsend takes you through his amazing career from locker room to living room. Go toe-to-toe with one of the legends in Raiders history…you will meet one of the elite game changers. You won't find a football story quite like this anywhere! "It is an honor to be the Raiders all time sack leader. My book Focuses on my NFL career, the highs and lows, and my lifetime dream of winning a Super Bowl. Silver and Black all the way! Please join me for this event."
Townsend's book, All Time, was released in hard cover by Celebrity Publishing. Greg Townsend is a former defensive end in the NFL. He was selected by the Los Angeles Raiders in the fourth round of the 1983 NFL Draft. He is the Raiders all time sack leader with 109.5 career sacks.
Collector's editions are being sold at this signing event! They will be sold at a event special price of $35.00. The books are also being distributed through Celebrity Publishing at www.celebritypublishing.com .
For more information about All Time by Greg Townsend, please visit www.celebritypublishing.com or contact Brenda Villegas at (714)914-4635.