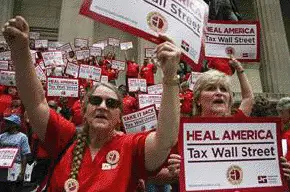 For Immediate Release: August 23, 2011
Contact: Charles Idelson (510) 273-2246, Carl Ginsburg (917) 405-1060, or Donna Smith (773) 617-4493

Nurses to Converge on 60 Congressional Offices in 21 States Sept. 1, To Call for Tax on Wall Street to Heal America
RNs to sponsor soup kitchens, food pantries, speak outs on the need for jobs, healthcare, education, housing – and outline the RN plan on how to pay for it
Local actions planned for Southern California include soup lines, street theater, rallies, and food drive for homeless shelter 
From Maine to California, nurses, joined by others fed up with the ongoing economic crisis, will call on Congress members in their local district offices Sept. 1 to support a tax on Wall Street financial speculation, a revenue source fast becoming an international norm, to pay for healing the nation.
Events, from soup kitchens to help feed the hungry and homeless, to community speak outs to street theater are planned in major urban centers like Boston, Chicago, San Francisco, and Orlando, to smaller cities and towns, such as Corpus Christi, Texas, Marquette, Mich., Bakersfield, Calif., Dayton, Ohio, and Worcester, Mass. National Nurses United is sponsoring the actions.
Nurses will visit the home offices of Republicans and Democrats alike, with a common message. Everyday Americans are hurting, and they need jobs, healthcare, housing, quality education, nutrition, and a secure retirement, not more cuts, as has been the obsession of Congress.
Please contact us if you'd like us to connect you with various, local registered nurses willing to share stories of economic hardship among their family, friends, patients, and communities.
See a preliminary list of actions at http://www.nationalnursesunited.org/pages/sept-1-event-list
The RNs will be calling on Congress members to sign a pledge to "support a Wall Street transaction tax that will raise sufficient revenue to make Wall Street pay for the devastation it has caused on Main Street." The visits follow a letter sent by certified mail to all 535 members of the House and Senate last week asking them to back the pledge and help "make the promise of the American dream… a reality."
Southern California events
Camarillo
What: Rally and delegation for Main Street targeted at Rep. Elton Gallegly
When: Noon – 1 p.m.
Where: 5051 Verdugo Way, Suite 120, Camarillo, CA 93012
Garden Grove
What: Rally and delegation for Main Street targeted at Rep. Loretta Sanchez
When: 11:15 a.m. – 12:15 p.m.
Where: 12397 Lewis Street, Suite 101, Garden Grove, CA 92840
Huntington Beach
What: Rally and delegation for Main Street targeted at Rep. Dana Rohrbacher
When: 1 p.m.
Where: 101 Main Street, Suite 380, Huntington Beach, CA 92648
Palmdale
What: Food drive delegation to homeless shelter, targeted at Rep. Buck McKeon
When: 3:30 p.m. – 4 p.m.
Where: 1008 W. Avenue M-14, Suite E-1, Palmdale, CA 93551
Riverside
What: Main Street/ Wall Street "tour" in front of bank and delegation, targeted at Rep. Ken Calvert
When: 1 p.m.
Where: 3400 Central Avenue, Suite 200, Riverside, CA 92506
San Bernardino
What: Soup kitchen and delegation targeted at Rep. Joe Baca
When: 11 a.m. – Noon
Where: Parking lot across from 201 North E Street, #102, San Bernardino, CA 92401
San Dimas
What: Speakout for Main Street targeted at Rep. David Dreier
When: Noon – 1 p.m.
Where: 510 E. Foothill Blvd., Suite 201, San Dimas, CA 91773
NNU protest on Wall Street in June
A tax on Wall Street trading of stocks, bonds, derivatives, currencies, credit default swaps, and futures – the very financial speculative activity linked to the 2008 financial meltdown and resultant recession – could raise hundreds of billions of dollars to pay for the programs that "are desperately needed to reduce the pain and suffering felt by so many families who feel abandoned in communities across this nation," says NNU Co-President Deborah Burger, RN.
A new NNU video depicts the Wall Street-made debacle, www.youtube.com/user/NationalNursesUnited
NNU, the nation's largest union and professional association of nurses, has convened numerous other protests in recent months joined by labor and community activists, including in Washington D.C., outside the headquarters of the U.S. Chamber of Commerce, and in New York City, across from the Stock Exchange, to advance this campaign.
"America's nurses see every day the broad declines in health and living standards that are a direct result of patients and families struggling with lack of jobs, un-payable medical bills, hunger, and homelessness. We know where to find the resources to bring them hope and real solutions," said NNU Co-president Karen Higgins, RN.
"It's time for Wall Street financiers, who created this crisis and continue to hold so much of the nation's wealth, to start contributing to rebuild this country, and for the American people to reclaim our future," says NNU Executive Director Rose Ann DeMoro.
National Nurses United is the nation's leading union and professional association for registered nurses, representing about 170,000 RNs across the country. Learn more about NNU at www.nationalnursesunited.org and the nurses' Main Street Contract campaign at www.mainstreetcontract.org.
###