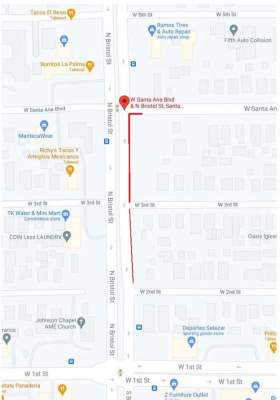 OC Streetcar crews will be working at the south-east corner of Santa Ana Boulevard and Bristol Street intersection for road grading. To accommodate this work, the far right northbound lane on Bristol Street from 3rd Street to Santa Ana Boulevard is continuously closed through August 19, 2021. Right turns in and out of 3rd Street can be made.
Local access to residences and businesses will be maintained at all times.
We recommend using alternate routes or plan for possible delays since these lane reductions will impact traffic flow. We apologize for any inconvenience and thank you for understanding.
For any questions about the OC Streetcar project, please contact OCstreetcar@octa.net or (844) 746-6272.
Cierre de carril en dirección norte de Bristol St.
Translations: