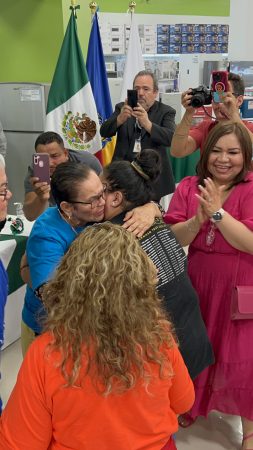 In a heartwarming display of solidarity and commitment, the Jalisco Foundation and the Curacao Foundation united to organize the "Reuniting Families" event. This event brought together 28 families that had been separated for over a decade due to migratory issues, allowing them to finally reunite. The event took place on Friday, August 11th, at the Curacao store in Santa Ana, California.
The "Reuniting Families" program, designed to reunite families separated by migratory reasons and provide visas to individuals over 58 years old, reached its pinnacle in a meeting filled with emotions and tears of joy. As families embraced after years of separation, the foundation aimed to fulfill the dream of reunion and restore the affection lost over time.
The Curacao store in Santa Ana served as the backdrop for this momentous event, drawing over 100 attendees. Families not only reconnected with their loved ones but also seized the opportunity to gather information about procedures and requirements for future reunions with their relatives. Three families even traveled from states as distant as New York, having been separated for over 28 to 30 years.
The event unfolded over approximately 4 hours, during which attendees shared moments of emotion and nostalgia, embracing and exchanging anecdotes lost during years of separation. The presence of media members at the press conference in the Curacao store underscored the importance of this humanitarian effort, giving voice to the stories and hopes of these reunited families.
Recognizing the value of this endeavor and the necessity to support these reunited families, Curacao stores sponsored this noble cause, which positively impacts the community. In addition to the reunions, at the event's conclusion, families received health insurance provided by the Jalisco Foundation to cover any medical emergencies during their time in the country.
The Jalisco Foundation and the Curacao Foundation remain steadfast in their commitment to reuniting separated families and providing support to those separated due to adverse circumstances. This event emphasizes the significance of collaboration between organizations and the community in promoting a positive and meaningful change in the lives of these families.