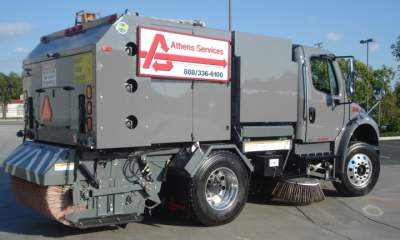 Community: ATHENS STREET SWEEPING SERVICES SCHEDULED TO BEGIN IN SANTA ANA ON OCTOBER 1, 2012
SANTA ANA, CA (September 17, 2012) – On July 17, 2012, the Santa Ana City Council approved a contract with Athens Services to provide citywide street sweeping services to Santa Ana. Athens has been in the sweeping business for over 25 years and has a reputation of providing quality sweeping and customer service.
Starting on October 1, 2012, City residents and businesses can expect enhanced sweeping quality and improved sweeping consistency, both the result of new street sweepers that Athens Services will deploy. Residential routes will continue to be swept on their regular days and within the posted street sweeping times; however, the actual time your street is swept may vary from the City's previous street sweeping operation.
The public should be aware that the street sweepers may pass at a different time than what they are currently accustomed to, but still within the posted street sweeping time.
For more information, please call the Public Works Agency – Maintenance Services Division at (714) 647-3306 or e-mail pguillen@santa-ana.org. After October 1, Athens Services customer service can be reached at (888) 336-6100.
####
Athens Services has been providing waste collection and recycling services in Southern California for over 50 years. We are family-owned and operated, offering a variety of State-of-the-Art services, including automated waste and recycling collection, green waste recycling programs, organics waste composting, special waste transportation, transfer and materials recovery, storage box rentals, and street and parking lot sweeping services in many areas of Southern California.