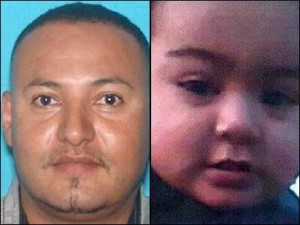 **AMBER ALERT**** ***STATEWIDE***
ON 03/09/2015, AT APPROXIMATELY 0130 HOURS, JAYDEN NATHANIEL SANTIAGO WAS TAKEN FROM A LOCATION IN SAN PEDRO, CALIFORNIA, AFTER HIS FATHER VIOLENTLY ATTACKED THE CHILD'S MOTHER AND HER BOYFRIEND AT HER RESIDENCE.

THE VICTIM, JAYDEN SANTIAGO, IS A 1 YEAR OLD HISPANIC MALE, STANDING 24" TALL, WEIGHING 26 POUNDS, WITH BLACK HAIR, AND BROWN EYES. HE WAS LAST SEEING WEARING A LIGHT BROWN AND GREEN SWEATER, GREEN AND BROWN STRIPED ONESIE, AND BLACK AND WHITE NIKE SHOES.
JAYDEN SANTIAGO MAY BE TRAVELING WITH THE SUSPECT, GIOVANY SANTIAGO-ENRIQUEZ, HIS FATHER. SANTIAGO-ENRIQUEZ IS A HISPANIC MALE, 37 YEARS OLD, STANDING 5 FEET 8 INCHES TALL, WEIGHING 200 POUNDS, WITH BLACK HAIR, AND BROWN EYES. SANTIAGO-ENRIQUEZ WAS LAST SEEN WEARING A BLACK BEANIE, BLACK SWEATER, BLACK DICKIES PANTS, AND GRAY AND BLACK NIKE SHOES.
ON THE DATE AND TIME ABOVE, THE SUSPECT WENT TO HIS EX-GIRLFRIEND'S HOUSE AND STABBED HER BOYFRIEND AND FLED THE SCENE. THE SUSPECT HAS NOT BEEN SEEN OR HEARD FROM SINCE. THE SUSPECT HAS MADE SUICIDAL THREATS AND HAS ATTEMPTED SUICIDE IN THE PAST. THE SUSPECT COULD BE TRAVELING TO MEXICO, OREGON OR WASHINGTON, WHERE HE HAS KNOWN CONTACTS. THE VICTIM IS BELIEVED TO BE WITH THE SUSPECT.
THE SUSPECT WAS LAST SEEN DRIVING A 2006 GRAY NISSAN ALTIMA BEARING CALIFORNIA LICENSE PLATE 5UCF010. SUSPECT IS CONSIDERED ARMED AND DANGEROUS AND SHOULD BE APPROACHED WITH CAUTION.
IF SEEN CONTACT THE LOS ANGELES POLICE DEPARTMENT, HARBOR DIVISION AT (310) 726-7700.
Instructions: If child is located please dial 911, or contact the LAPD Harbor Division at (310) 726-7700.
###