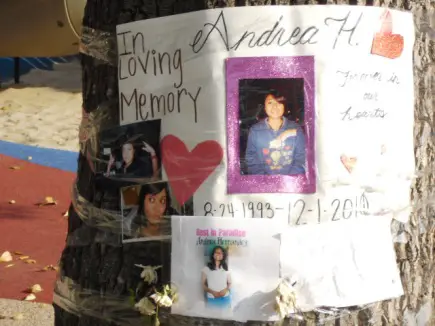 UPDATE: Andrea's mother, Claudia, is trying to get a VISA so she can come from Mexico to participate in her daughter's funeral service.  Getting a VISA is no easy task but I have put her sister in touch with Congresswoman Loretta Sanchez' office.  Pray that they will find a way to make this happen!
The O.C. Register reported on Dec. 2, that "An 18-year-old woman found hanging from a tree at Santiago Park has been identified as Andrea Hernandez, authorities said Friday."
The Register didn't report much else – and they didn't follow up on the story.  It bothered me that this young resident of our city left us in that way – and her story has not been told.
Today I visited the site where she was found and saw that a memorial had been set up for her, with flowers, a teddy bear and notes and pictures taped to a tree.  It is heartbreaking. Continue reading→