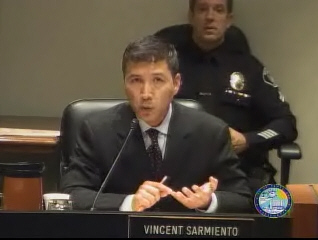 FOR IMMEDIATE RELEASE: October 11, 2016
FOR MORE INFORMATION: George Urch (714) 464-9125 (Cell)
DEMOCRATIC PARTY OF ORANGE COUNTY ENDORSES SANTA ANA COUNCIL MEMBER VICENTE SARMIENTO FOR RE-ELECTION
Democratic Party, Democratic Foundation of Orange County, and Orange County Young Democrats All Formally Embrace the Santa Ana Councilmember
SANTA ANA – Santa Ana Councilmember Vicente Sarmiento announced today that the Democratic Party of Orange County, Democratic Foundation of Orange County, and Orange County Young Democrats have all formally endorsed his campaign for re-election to the Santa Ana City Council.
"Vicente Sarmiento has been a true leader and dedicated public servant over the last decade for the people of Santa Ana," said Orange County Democratic Party Chairman Henry Vandermeir. "The Orange County Democratic Party is proud to stand with him and enthusiastically support his continued service on the Santa Ana City Council."
"As a lifelong Democrat, I am excited and proud to have the endorsement of my political party," said Santa Ana City Councilman Vicente Sarmiento. "I wholeheartedly welcome their support and their addition to my growing list of campaign endorsements."
Sarmiento is a native of Santa Ana, who proudly returned home with his wife Eva after receiving his Bachelors Degree in Economics from UC Berkeley and his Law Degree from UCLA, to help make Santa Ana a thriving and vibrant city. During his ten years on the City Council, he has championed strengthening the City's finances, increasing funding for additional police officers and public safety resources, lowering the city's unemployment rate, improving and repairing the city's local streets and roads, and creating new open space in town.