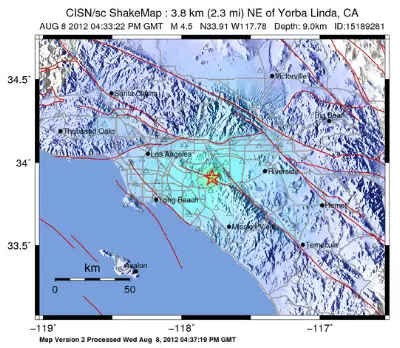 Two more earthquakes struck today in Yorba Linda.  A 4.5 magnitude quake shook Orange County residents at 8:33 am today followed by a 3.4 magnitude temblor at 8:51 am, according to the USGS.
There were two quakes last night that we previously reported.
Click here to download American Red Cross emergency preparedness guides.  And here are their Earthquake Safety Guides: English & Spanish.
If a big earthquake strikes, click here to visit the County of Orange Emergency website.  And click here for emergency updates from the Orange County Fire Authority, which now provides firefighting services in Santa Ana.  Should a major emergency strike our city, the Santa Ana Response Team would also provide emergency response services in our city.