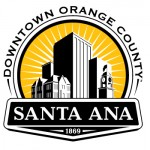 City of Santa Ana
Community SPOTLIGHT SANTA ANA: Things to do in Santa Ana This Week 
FARMER'S MARKET IN DOWNTOWN SANTA ANA
The Downtown Santa Ana Farmer's Market was recently featured in Orange Coast magazine and has quickly created a buzz throughout the community. Located in the East End promenade near the Yost Theater, the market takes place every Thursday from 2-8pm. Local restaurants are sourcing from the market and creating fresh dishes around local faire. Some of the great items featured every week include fresh fruits and vegetables, specialty Asian vegetables from Brother's Farm, Tarte Paan desserts, vegan desserts, meat, specialty coffee, Artisan bread, salts, oils, and more.
The latest additions to the market include:
De La Ranch — incredible natural meats from tail to snout (photo of their fresh quail eggs they had last week, I don't have the rights to the photo). Offers farm tours.
Eat CIVIC — a local restaurant that is selling home-made peanut butter and more.
India Express – A new addition that is selling Chicken Tikka Masala, Saag Paneer, fresh naan, tahini, coriander mint dip and so much more!
Downtown Santa Ana Certified Farmers' Market
Every Thursday, 2pm – 8pm
Between 3rd and 4th on the promenade
For a complete list of vendors or to learn more, visit:
https://www.facebook.com/dtsafarmersmarket
SANTA ANA WRESTLING SILENT ART AUCTION FUNDRAISER
MC Gallery will host its 2nd Annual Silent Art Auction on Thursday June 5th at 415 N. Sycamore Street. Proceeds will benefit the Santa Ana Wrestling Program and the Santa Ana Athletic Foundation. This year, the goal of MC Gallery is to raise funds for summer camps, team trips, uniforms and other equipment. The auction will include works of art by well-established and seasoned artists in Orange County and Los Angeles County such as Wyland, Jim Warren and Walfrido Garcia. Current and former Santa Ana wrestlers have donated art and an autographed pair of gloves and picture of Wrestling Alumni Gilbert "El Nino" Melendez (current UFC fighter) will be up for auction.
VALET NOW AVAILABLE!
The City of Santa Ana is pleased to announce that Valet services are now available in Downtown Santa Ana in the evening from Friday through Sunday beginning at 7pm. The City has entered into an agreement with Supreme Parking for Valet Parking Services at the Third and Bush Street parking lot.
Valet Parking will enhance the shopping experience in Downtown Santa Ana and provide an overall benefit by:
•Increasing overall parking capacity
•Offering a greater convenience for customers of the Downtown
•Creating a positive customer service
•Providing increased safety
If the program is successful, the City will look into adding additional areas in the future.
SANTA ANA CHALK WALK ART CONTEST
An estimated 100-300 people are expected to descend on Downtown Santa Ana for the 1st Annual Chalk Walk. The event will take place in the Artist's Village on Sycamore between 4th and 5th Street from 12-7pm. More than 15 artists and teams have already registered to compete in a chalk art contest. Entry in the contest is $7. Art and other crafts will be on display for sale and viewing. Also on hand will be a DJ, food trucks and more.
AFTER THE CHALK WALK, STICK AROUND FOR FIRST SATURDAY ART WALK
Join the gallery owners of the Artists Village in downtown Santa Ana for the Santa Ana Art Walk, an evening of dining, shopping for original art and viewing open lofts. Orange County's hippest new neighborhood invites you to stroll down the four blocks of the 2nd Street Promenade from Broadway Avenue to Spurgeon Street on the First Saturday ofEVERY month from 7:00pm – 10:00pm. Admission is FREE. Galleries and showrooms at the East Village Lofts and the Main Street Lofts (across the street) include Space On Spurgeon, The Digital Messiah Gallery + Studio, gp threads, GINAC Gallery, Night Gallery Ceramics, cent gallery, Mahvash Gallery, Stephen Beck Gallery of Contemporary Art and others.
VOLUNTEER AT THE LACY NEIGHBORHOOD PRIDE DAY THEN STICK AROUND FOR THE CELEBRATION:
Join community leaders for a day of painting and giving back. Volunteers and neighborhood residents will paint selected home exteriors & improve landscaping. Four large dumpsters will be provided so that residents can clean out garages, backyards and beautify the Lacy Neighborhood. After cleaning, the neighborhood will hold a small block party including food, music, and a DJ.
To learn more about news & events in Santa Ana, visit www.santa-ana.org/news
###