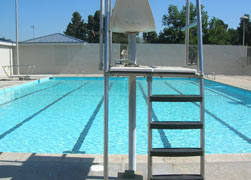 You can swim at the El Salvador Center!
UPDATE

: Click here for 2011 Santa Ana Summer Youth Activities
Looking for something for your kids to do this summer, in Santa Ana?
How about a Summer Day Camp?
Activities vary by site and include health and fitness, sports, wacky Olympics, cooking, special events, excursions, science projects, tennis, swimming, nutrition curriculum, walking clubs, water games, arts and crafts, board games, reading, library visits, junior volunteer program, pool parties movies, skits, etc. The end of the summer is capped with a city-wide talent show with productions developed throughout the summer. Please contact your local recreation center for program times and fees.
Jerome Center, 726 S. Center St., 1 (714) 647-6559
El Salvador Center, 1825 W. Civic Center Dr., 1 (714) 647-6558
Memorial Center, 2102 S. Flower St., 1 (714) 571-4242
Salgado Center, 706 N. Newhope St., 1 (714) 571-4267
Logan Center, 1009 N. Custer St., 1 (714) 571-4263
Sandpointe Center, 3700 S. Birch St., 1 (714) 647-5307
Santa Anita Center, 300 S. Figueroa St., 1 (714) 647-6552
Click here for a map of all the Santa Ana Community Centers.
The City of Santa Ana Parks and Recreation Agency also offers plenty of leisure activites, at great prices.
View the entire Summer 2010 Brochure by using the link at the bottom of the following list,
OR to view individual class-type sections, use the links on the list below.

> Arts and Crafts
> Dance
> Music
> Outdoors – Santiago Park Activities
> Santa Ana Zoo at Prentice Park
> Fitness
> Special Interest
> Martial Arts
> Ice Skating
> Aquatics
> Youth Sports Program
> Recreation Centers
> Seniors
> Ads-Sponsors
> Facility Locations
> Registration Information & Forms
> Entire Brochure
For more information contact: (714) 647 – 5307.