One of our readers contacted us back on Aug. 29 with sad news. His family's beloved dog, Churro, was stolen from his sister's apartment!
While other items were also stolen, the family just wants their dog back.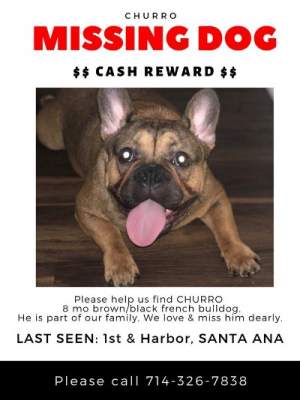 The story got sadder today as KABC reported that "Regine Veliz and Andres Ramirez comfort their dog Butters as best they can as he lets out heartbroken cries over Churro, the family's missing French bulldog."
Churro, who is eight-months-old, doesn't have a tail but does knows his name and loves to stick out his tongue.
If you know where Churro is please call the SAPD at (714) 245-8665. You can also call Churro's owner directly at 714-326-7838.