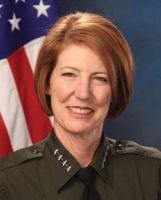 Orange County Sheriff Sandra Hutchens to retire at end of current term
Endorses Undersheriff Don Barnes as her successor
Santa Ana, CA – – Sandra Hutchens, Sheriff-Coroner of Orange County, announced today that she will not seek reelection in 2018 and is endorsing Orange County Undersheriff Don Barnes.
"At the end of my current term, I will have spent almost 40 years in law enforcement and over 10 years as Sheriff of Orange County," said Hutchens. "It has been a great honor and privilege to serve as Sheriff and I would not even consider retiring if there was not a highly qualified and electable candidate ready to serve.
"I am proud to endorse Orange County Undersheriff Don Barnes for the position of Sheriff-Coroner of Orange County," said Hutchens. "Don has worked for our Department for 29 years and has excelled at every position and assignment. He possesses the experience and qualities needed to lead an agency with 3,800 sworn and professional staff members and over 800 reserve personnel. I am confident that Don Barnes will work tirelessly and effectively to keep the citizens of Orange County safe in their homes, neighborhoods, schools and places of business."
Sandra Hutchens was elected as the 12th Sheriff-Coroner for Orange County in June of 2010, after having been appointed by the Orange County Board of Supervisors to serve out the remaining two year term of Sheriff Mike Carona, who had resigned. Hutchens began her law enforcement career with the Los Angeles County Sheriff's Department in 1976 where she worked her way through the ranks of deputy, sergeant, lieutenant, captain, commander and as Division Chief for the Office of Homeland Security.
"Sheriff Hutchens has served Orange County with distinction and thanks to her leadership the Sheriff's Department is recognized as one of the finest law enforcement agencies in the country," said Senate Republican Leader Pat Bates. "I am confident that Undersheriff Don Barnes will continue that level of service and professionalism and am happy to endorse him for Sheriff."
As Orange County Undersheriff, Don Barnes oversees the daily operations of the department's 24 Divisions and the 16 police service contracts. He is responsible for strategic development of programs to improve public safety services to the residents of Orange County. Barnes began his career with the Orange County Sheriff's Department in 1989 and has served in numerous leadership roles inside the department. Please visit BarnesforSheriff.com for more information.
ORANGE COUNTY DISTRICT ATTORNEY NEWS RELEASE
TONY RACKAUCKAS, District Attorney
Date: June 27, 2017
SANTA ANA, Calif. – Orange County District Attorney Tony Rackauckas has released the following statement:
"I want to congratulate Sheriff Sandra Hutchens on her decision to retire upon expiration of her term and wish her the very best as she enters this new and well deserved phase in her life. She has devoted 40 years to her honored profession of serving and protecting the public. I have enjoyed our close working relationship and appreciate all she has done to strengthen our many joint partnerships including the Orange County Cold Case Homicide Task Force, Human Trafficking And Exploitation, Orange County Regional Computer and Forensic Lab, and so many more.

Most recently, we served together on the Board of Orange County Gang Reduction and Intervention Partnership to keep children out of gangs, a cause we both feel very strongly about. I have tremendous respect for Sheriff Hutchens both professionally and personally. The Orange County District Attorney's Office handles over 10,000 new cases from the Orange County Sheriff's Department each year and we look forward to continuing this great work."
###
TONY RACKAUCKAS, District Attorney
Susan Kang Schroeder, Chief of Staff
Office: 714-347-8408
Cell: 714-292-2718
Michelle Van Der Linden,Spokesperson
Office: 714-347-8405
Cell: 714-323-4486