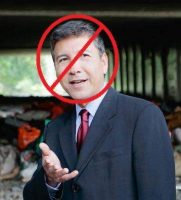 Dale Galipo, the husband of Santa Ana Mayor Vince Sarmiento's sister, Vicki Sarmiento, has apparently been retained by the family of Brandon Lopez, the cousin of Santa Ana City Councilman Johnathan Ryan Hernandez. ABC News reported that "Galipo is joined by attorney Vicki Sarmiento as they explore options for the Lopez family in the aftermath of the fatal shooting." Both Vicki and her husband have a long history of suing city police departments.
One has to wonder how Mayor Sarmiento's relatives came to be representing the Lopez family as Vicki and Dale are based in the San Gabriel Valley.
Santa Ana Mayor Vicente Sarmiento publicly questioned why Santa Ana police gave up their jurisdictional authority to a neighboring city's police force, according to the Voice of OC. In doing so he opened up the City of Santa Ana to significant liability. But he did not stop there! Here are the rest of his very damaging comments to the media:
Sarmiento also questioned why no mental health professionals were called to the scene, and why Anaheim police used a flashbang to get Lopez out of his car and then killed him in what he described as a "firing squad" manner.
"Why make a provocative decision to fire a flash grenade into a vehicle rather than simply wait? Why was there a forced evacuation of a vehicle? Why was that met with lethal force? It really does appear to be a firing squad," Sarmiento said.
Sarmiento also appeared to take issue with how Santa Ana police treated Lopez's family on the scene of the standoff and killing that night: "My question to our department is how we treat family members who are present?"
It should be noted that Mayor Sarmiento is a lawyer but he does not specialize in civil rights or criminal defense. He is a bankruptcy lawyer and he has also been paid to advice cities on how to develop their legal marijuana sales ordinances.
We should also bear in mind the fact that the Sarmiento family made their fortune by owning and operating bars and dance halls that have been crime magnets in our city.
It is also a little know fact that Arthur Andrew Andrade, Jr., the son of Mayor Sarmiento's other sister Daisy, shot and killed his estranged wife Esperanza on March 16, 2013. Deputy District Attorney Pallavi Dhawan called the shooting an "ambush" and an "execution." He was was sentenced to 50 years to life in state prison, according to the O.C. Register. You can read the appeal judgement here. Of course his family argued that Andrade was having mental health issues!
It is unbelievable that the Mayor of Santa Ana's own brother-in-law is most likely going to be suing the SAPD and the City of Santa Ana. Clearly Mayor Sarmiento and Councilman Hernandez will need to recuse themselves from any Closed Sessions of the Santa Ana City Council that touch on the Lopez killing or any related litigation.
If Mayor Sarmiento had any doubts about what happened to Lopez he should have shared those with the SAPD Police Chief and our City Manager – not with the press. His grandstanding might end up costing our city a small fortune in legal fees and court costs not to mention future settlements.