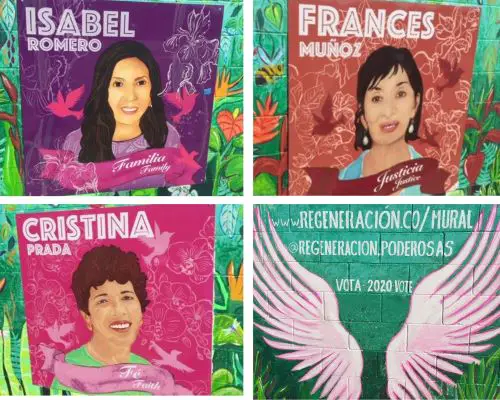 COSTA MESA, Calif. (Jan. 31, 2023) – On Monday, October 31, 2022, at approximately 2:30 p.m., Costa Mesa police were called to the 3000 block of Killybrooke near Baker Street regarding the defacing of the Las Poderosas mural, a public mural created in 2020 to honor eight poderosas – or strong women.
Several witnesses reported seeing a man scratching out several of the women's names and spray painting "white power" and "PEN1 737," a reference to Public Enemy Number 1, a documented white supremacist gang.
When officers arrived, they found that the Poderosas mural, a local landmark that commemorates Latina heritage, was vandalized with white supremacy language.
The mural is well known in the community and spans over 70 feet of a block wall and honors immigrant Latina women. The mural was created in October 2020 by an all women crew and was led by artist Alicia Rojas.
Individuals in the area observed the suspect vandalizing the Poderosas mural by spray painting a hate crime message on the mural. Witnesses reported the crime and also provided video of the incident to CMPD.
During the investigation, Daniel Alec Hotte, 27, Dana Point, was identified as the vandalism suspect.
Shortly thereafter, CMPD Gang Investigators checked numerous locations in Orange County and Riverside County but Hotte could not be located. Investigators then learned Hotte had a pending court date on Monday, Jan. 30, 2023.
Yesterday morning, Hotte was located at the Harbor Justice Center and arrested. Hotte was then booked at CMPD Jail on an outstanding warrant, vandalism, and hate crime. CMPD will file the case with the Orange County District Attorney's Office for charges.
Hotte has been charged with a hate crime for spray painting white supremacy graffiti over a Costa Mesa mural celebrating influential Latinas from Orange County.
Hotte is facing one felony count of vandalism exceeding $400 and one felony enhancement of a hate crime. He faces a maximum sentence of six years in state prison if convicted on all charges.
Hotte pleaded not guilty today and is currently being held at the Orange County Jail in lieu of $20,000 bail.
"Art is one of the many beautiful ways we tell the story of who we are and where we came from," said Orange County District Attorney's Office. "It is heartbreaking to see the stories of such powerful women who overcame incredible obstacles to succeed be defaced with such hate. Ugly words will never cover up the achievements of these amazing women, including Frances Muñoz, a former Orange County Superior Court judge who served as the first Latina trial judge in California. We will continue to hold haters accountable and send a strong message that there is no room for hate here in Orange County – or anywhere."
"Costa Mesa is a great city known for its inclusivity. We celebrate our diversity and are proud of our various backgrounds," said Mayor John Stephens. "This type of crime flies in the face of what we have achieved as a multi-cultural community. I'm grateful for the witnesses who came forward to help identify him and thankful the police stayed on the case and captured the suspect."
"I represent a community rich in culture," said Councilmember Loren Gameros. "This suspect came from another city into Costa Mesa to commit this crime and hurt the identity of some of our neighbors. That is unacceptable and now he will have to face justice."
"Vandalism crimes like this can often go unsolved," said Police Chief Ron Lawrence. "I commend the quick action of the witnesses to capture evidence of the incident and the great police work of the Costa Mesa Police Department that solved this case."
Anyone who may have been a witness in this incident and has not spoken to CMPD is asked to contact Investigator Eric Molina at 714-754-5694, or Sergeant Matt Selinske at 714-754-5093.
Senior Deputy District Attorney Cliff Page of the Gangs/TARGET Unit is prosecuting this case.