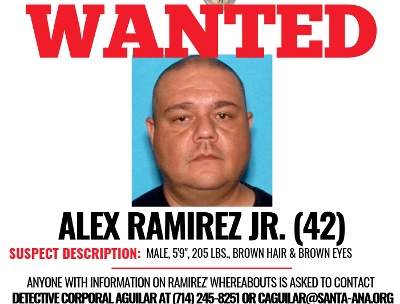 In 2015, wanted suspect Alex Ramirez, 42-years-old, misrepresented himself as the manager of a band and entered into an agreement for the band to perform at an event. Ramirez received a large monetary deposit for this agreement. Ramirez never provided the services and did not return the deposit.
A warrant was issued for Ramirez' arrest for grand theft. Ramirez has connections to the cities of Downey, Hacienda Heights, and Chino, CA.
Ramirez is 5′ 9″ and he weighs 205 lbs. He has very little hair but what is left is brown. He has brown eyes as well.
Anyone with information on Ramirez' whereabouts is asked to contact Detective Corporal Aguilera at (714) 245-8251 or caguilera@santa-ana.org