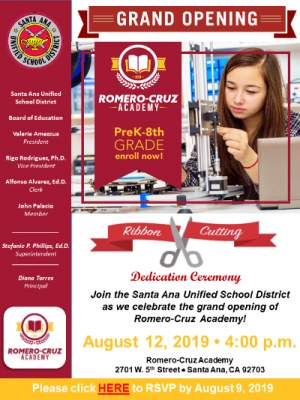 The Romero-Cruz Academy Ribbon Cutting Ceremony is set for Monday, August 12, 2019 at 4:00 p.m. at 2701 W. 5th Street, Santa Ana, CA 92703. Click here to RSVP, which is due by August 9.
With the focus and intent to increase the educational opportunities for students, the Santa Ana Unified School District (SAUSD) has combined the school communities of Romero Cruz Elementary and Spurgeon Intermediate School into Romero-Cruz Academy to create an enriching Pre-K-8 learning option for students.
Beginning this fall, both existing schools will be integrated into one campus with specifically tailored state-of-the-art classrooms and other facilities for Pre-K, Kindergarten, elementary and intermediate grades.
A redesigned and reimagined Kindergarten area will make its debut with the start of the 2019-20 school year, featuring a new playground, an outdoor classroom and more.
A brand new preschool, with a focus on the arts and language, will also open on the grounds in December 2019.
In terms of academics, the 2019-2020 year will also bring with it the return of successful educational programs, in addition to enhanced programs and increased learning opportunities for Romero-Cruz Academy students.
With the addition of preschool to the Romero-Cruz Academy campus, the school's Dual Language (Spanish) program will be offered at the PK-3rd grade level. Students in the intermediate grades will benefit from the addition of Spanish course offerings.
All students will continue to benefit from the Academy's schoolwide AVID program, full athletics program, STEM Lab and robotics arena, comprehensive counseling department, and Visual and Performing Arts focus. Transportation services will also continue for 4th and 5th grade students.
In 2019, the school's award-winning speech and debate program will expand to serve the Academy's 4th and 5th grades, and the school will also continue to offer leadership development for students in grades 6 through 8.
Romero-Cruz Academy is at 2701 W. 5th St., Santa Ana, CA 92703.
Instruction begins Monday, Aug. 12, 2019.
To enroll, please call: 714-480-2200.