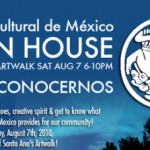 El Centro Cultural de Mexico is hosting an Open House Celebration on Saturday, August 7.  They are located at the corner of Broadway and Fifth Street (above the El Curtido Salvadorian Restaurant). Free parking lot is available in front of El Centro.
Here are the details they have provided about the event:
Please join us the first Saturday in August as part of Santa Ana's Artwalk!
El Centro Cultural de Mexico will be providing great programs for you to visit and even participate in! Bring your dancing shoes, creative spirit & get to know what El Centro Cultural de Mexico provides for our community!
Some of the programs that will be sharing their work:
Danzon
Educarte
Barrio Writers
Barrio Actors Guild
SAPO
UMER
OC Dream Team
Come to enjoy our music, Cafe Centro & make your own t-shirts!
By engaging Orange County residents and communities through community outreach efforts, it supports inter and intra-cultural interaction and dialogue among Orange County's residents by creating a variety of programs which enables all people to explore their own heritage and culture. Through educational programming, which includes workshops in dance, music, art, and literacy, it promotes understanding and appreciation of the contributions of the many cultures in our region by sharing knowledge of Mexico's rich cultural, and educational, and social legacy.
We hope to continue our efforts by maintaining our space and sharing our culture, we welcome your support and new ideas!
Date: Saturday, August 7, 2010
Time: 6:00pm – 10:00pm
Location: El Centro Cultural de Mexico
Street: 310 W 5th Street
City/Town: Santa Ana, CA
Click here to RSVP on Facebook!