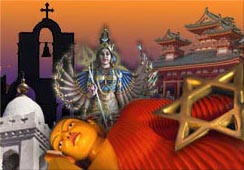 The Progressive Interfaith Alliance OC has tentatively scheduled an event called "Fairness for all Families" on July 31, from 7:00pm to 9:00pm at Sasscer Park, located at 502 W. Santa Ana Blvd., in Santa Ana.
The date may change as the event will follow the court decision regarding Prop. 8 – the initiative that banned gay marriage in California.
Click here to RSVP on Facebook.
There will be materials provided for people to make their signs; yet it will be best if you create your signs at home.
The Following are a few ideas for the messages on your posters:
Gay is OK
OC loves its Lesbians
Love is never Wrong
What would Jesus Do?
Fairness is also a family Value
I am Gay, Proud and Whole
We Are All Equal
Jesus Loves Me Too!
Equality is also a family value.
Fairness is Fair
Tolerance is a family value too!
Positive Messaging does not include accusations and or blame; it does include responsibility, accountability, and I statements (I am Equal under the Law; I am Gay).
It is About Fairness
Orange County's Response to Judge Vaughn Walker's Decision on Proposition 8
We are planning a response to either outcome.
If Justice prevails, we will be graceful winners and use this initial win to reach out a hand of fellowship to people who are not quite with us yet.
We will continue to act with dignity, and reach out to members of our OC community.
If Justice suffers another blow, we want people to come out a gathering with feelings of compassion, sympathy/empathy, support, connection, resolve to help, resolve to persevere, and remind people that there will be ups and downs.
We know the road will end in full equality – so we must keep on going.
We do not know when the ruling will be read and we are hoping to get some advanced notice. It could be any day of the week. There is no time limit on when Judge Walker has to rule, but the buzz is that we think it should be within the next month.
We believe the decision shouldn't take too long. We've continually expressed that every day Prop 8 stays in effect, members of our community are being harmed. We believe the Court will rule in a reasonable time frame.
See you there …
Contact for more information, to volunteer, or be on the organizing team:
LindaMay@cox.net