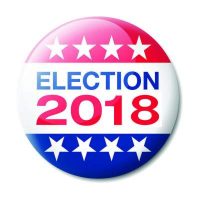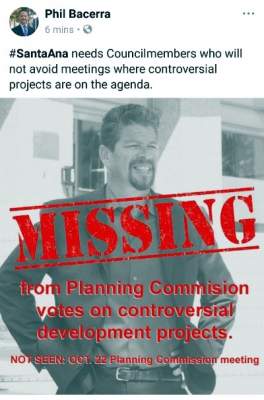 I spent two hours at last night's Santa Ana Planning Commission meeting as an agenda item regarding setting a special meeting on Nov. 5 to approve the notorious 2525 Main St. Apartment development was deliberated.
The residents of Santa Ana prevailed even though three of the Planning Commissioners were absent. The Commissioners that were there, including Ken Nguyen, Beatriz Mendoza, Lynette Verino and Chairman Mark McLoughlin, agreed with the residents that there was no good reason to move up the schedule for approval of this project – not when the Planning Commission has yet to fully review the EIR and the many comments submitted by the public.
The missing Planning Commissioners included Roman Reyna, the former City Councilman in Ward 5 who lost his seat to law enforcement officer Juan Villegas. Now Reyna is carpetbagging in Ward 4.
Why did Reyna skip last night's meeting? It was a hugely important meeting and he apparently could not be bothered with listening to the voters he wants to represent. It was shameful!
One must also wonder why this agenda item was even put up for consideration by the Planning Commission. My sources tell me that the culprit is none other than Santa Ana City Manager Raul Godinez. He was hired by the current Santa Ana City Council and vastly overpaid even though he was not the most qualified candidate. At the time Councilman Sal Tinajero was heard to say that of course he had to hire the Latino candidate.
So now Godinez is paying Tinajero back by trying to help Tinajero to do the bidding of his master, developer Ryan Ogulnick. Ogulnick spent $17 million to buy the 2525 Main St. property even though it was not zoned for a massive apartment complex located next to the Park Santiago neighborhood. Now Ogulnick will do anything to get his way – including bankrolling the campaigns of Tinajero and his cabal – Paul Gonzales in Ward 2, Nelida Mendoza in Ward 6 and Reyna in Ward 4.
Well Godinez and company got punked last night. And if we prevail and defeat Tinajero and his cronies on Nov. 6 then most assuredly the new City Council will send Godinez packing, perhaps all the way back to his last employer, the tiny East L.A. city of Lynwood.
As for Reyna, he better recuse himself from voting on any projects associated with Ogulnick.