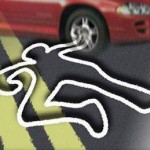 Santa Ana Police Department
Advisory: SAPD Investigating a Pedestrian vs. Vehicle (Fatal) Collision
On Thursday, May 31, 2018 at approximately 10:25 p.m., our officers responded to the area of the 1200 block of South Bristol St. in regards to a pedestrian vs. vehicle collision with the pedestrian reported to still be down in the roadway. OCFA responded and briefly treated the pedestrian at the scene before he was transported by CARE Ambulance to the UCI Medical Center where he later succumbed to his injuries.
From physical evidence and the statement of the involved party, the pedestrian was crossing Bristol outside of crosswalk when he was struck by the vehicle which was headed north from Wilshire Avenue. The driver of the vehicle remained at the collision scene and cooperated with the investigation. The driver is believed to not be under the influence of alcohol or drugs at the time of the collision. The pedestrian's sobriety will be determined through a forensic toxicology analysis completed by the Orange County Coroner's Office as part of the autopsy.
The Santa Ana Police Department's Collison Investigations Unit (CIU) responded to the scene and handled the investigation. Any witnesses or persons possibly having information about this collision are asked to contact Santa Ana Police Department, Collision Investigation Unit at (714) 245-8200.