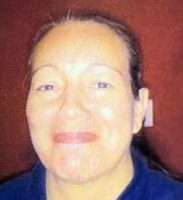 Santa Ana Police Department
AdvisoryDetectives Request Assistance in Locating Missing Person
Missing Person: OROZCO, Leticia Santos Age: (48 years old)
Description: Hispanic female, 5'6", 150 pounds, brown shoulder length hair, and brown eyes. Orozco is missing her front tooth.
Location: Last seen in the area of 17th and Fairview on 12-11-2017 at 0645 a.m., in Santa Ana, CA.
Synopsis: Missing Person Leticia Santos Orozco after separating from her husband of 14 years moved into her brother's Santa Ana residence the end of November 2017. Orozco's estranged husband contacted and asked Orozco for a divorce. Shortly after her estranged husband's request, Orozco left her brother's residence and has yet to return or make contact with any of her family members.
If located, please contact SAPD Dispatch at 714-834-4211, Detective Moroyoqui 714-245-8731 or Investigator V. Jurado 714-245-8353