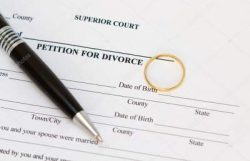 WHAT PAPERS DO I NEED FOR MY DIVORCE?
Thirty three people file for divorce in Orange County every day, according to the Orange County Register. The national divorce rate is about 50 percent. In California, it's 60 percent.
If you are thinking about getting a divorce you might think that there is one set of paperwork to fill out, file, and the divorce becomes final six months later. However that is not true.
When you ask what papers you need to complete a divorce, the proper answer is you need "several sets of paperwork." You will need the initial filings which include the Summons, Petition, a UCCJEA form if you have children, and likely a local from or two depending on which county you are filing in. For example, Los Angeles and San Bernardino have a local jurisdictional form and Orange County has a local form call a Declaration re Related Cases that is required. Once your initial divorce filings are completed, they must be served on the opposing party. The Respondent, who is the person you are divorcing, will also need a Response form and their associated paperwork.
The second set of paperwork you will need to complete is called the Declarations of Disclosure. This is a financial disclosure and is absolutely required or the State of California will not grant you a divorce. The third set of mandatory paperwork is the Judgment. The judgment is different depending on what issues you have in your particular divorce. For example, if you have children you are going to need certain judgment paperwork dealing with children, Child Support and Custody. If you do not have children you will not need those forms.
Once each of these sets of paperwork are completed and filed, the State will make you wait six months and one day before they will grant you your divorce.
You can usually find all of the paperwork you need at your local Family Law Courthouse. You may also be able to find most of these documents online. If you have any other further questions with regard to filing a Divorce or the necessary paperwork for Divorce, contact a local attorney.
Sponsored Post by Douglas Pinkham
Douglas Pinkham is a Managing Partner at Pinkham & Associates, a law firm in Orange County dedicated
to Divorce and Family Law.
714.730.0111
17731 Irvine Blvd #201, Tustin, CA 92780