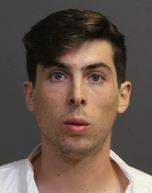 Costa Mesa Police Department
Advisory: Two arrested for robbing man while repeatedly kicking and punching victim
Incident/DR#: 17-12131
COSTA MESA, Calif. – The Costa Mesa Police Department (CMPD) arrested two robbery suspects, Gabriel Breisch, 21, Foothill Ranch, and Adahn Woodard, 25, Lake Forest, for stealing a camera from a man while they repeatedly kicked and punched the victim.
At approximately 6:59 a.m., on Sept. 12, 2017, CMPD officers responded to a robbery at the 2500 block of Newport Boulevard and contacted the victim and multiple witnesses. The victim, 26-year-old, John Doe, was due to meet with the suspects to sell his camera after they had responded to an online ad. Instead, Breisch and Woodard stole the camera from John Doe and repeatedly kicked and punched the victim, who sustained injuries. During the investigation, CMPD detectives identified the suspects.
On Sept. 13, 2017, CMPD arrested Breisch without incident. Woodard was arrested this morning, Sept. 14, 2017. The stolen property was recovered. Both suspects were booked for strong-arm robbery and assault with force likely to produce injury and are being held on $50,000 bail.