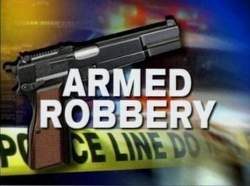 Santa Ana Police Department
Advisory: Detectives Asking For Media & Publics' Assistance Identifying Suspect Wanted In An Armed Robbery
Suspect Description: Male Hispanic 5'8", Medium build, short black hair, brown eyes, dark complexion. Suspect was wearing white and blue shirt (stripes), black denim jeans. White sneakers and was wearing a black bandana covering his mouth.
Weapon: Silver handgun (Semi-automatic)
Location: 200 block of South Main Street
Synopsis: On 8-31-2017, at approximately 11:05am, the suspect entered the business located in the 1200 block of South Main Street, brandished a handgun and demanded money from the female employee. After he received the cash from the victim's wallet, the suspect also demanded that the victim give him her wallet. When she refused, a struggle over the wallet ensued and the suspect struck the victim on the head with a pistol and fled the business. The victim received a laceration to the head and was subsequently transported to the hospital for her injuries.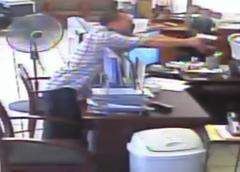 Robbery Detectives believe this suspect may be involved as many as four additional robberies in Santa Ana.
Anyone with information about the suspect in this case is asked to contact SAPD Robbery Detective Corporal Jose Mendoza at 714-245-8545, jmendoza2@santa-ana.org or Orange County Crime Stoppers at 1-855-TIP-OCCS.