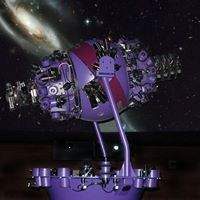 The 2017 Solar Eclipse is starting at 9 a.m. this morning and you can watch it at the Tessmann Planetarium at Santa Ana College. Click here for other viewing locations. If you need solar eclipse glasses try 7-11 stores.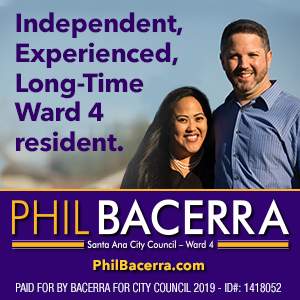 Here are the details regarding the solar eclipse viewing at Santa Ana College:
Eclipse Event: Come Observe the Eclipse with Us
When: August 21, 2017
Hours: Between 8:30 and 11:45 a.m.
Peak of partial eclipse: 10:21 a.m.
Where: In front of the Tessmann Planetarium, Santa Ana College
Disappointed that you can't make it to Oregon or Idaho to see the Total Solar Eclipse in August? You don't need to be too downcast—you will still be able to experience a partial eclipse right here in southern California.
On Earth, solar eclipses occur when the new moon passes between the Sun and the Earth, and the moon blocks out part or all of the Sun from your point of view. On August 21, you will be able to observe a partial eclipse in Orange County, with 62% of the Sun covered.
Let Santa Ana College and the Tessmann Planetarium enhance your eclipse experience. We will have two Coronado PST Solar telescopes set up in front of the planetarium. These telescopes are perfectly safe for observing the eclipse. We will also be handing out free eclipse glasses (as supplies last).
We will stream live video of the total eclipse on our 30 foot dome and in our lobby from remote websites in states experiencing totality. We will have astronomers and amateur stargazers available at the telescopes and in the planetarium to answer your questions about the eclipse and other events skyward.
The Tessmann Planetarium, on the campus of Santa Ana College, is centrally located on West 17th Street and Bristol Ave in Santa Ana. The planetarium is located in front of the college and we will have free parking on campus during the hours of the eclipse. Handicap parking is also available. Telescopes will be set up directly in front of the planetarium—Building M (between buildings R and S).
Warning – Protect Your Eyes! Solar telescopes and eclipse glasses will allow to you safely observe the event. You should not stare at the Sun during a partial eclipse without safety equipment or eye damage may occur and it may be permanent. Even using eclipse glasses, you shouldn't stare at the Sun for long periods of time. Make sure you use approved eclipse eyeglasses, #14 welding glass, solar telescopes or solar binoculars. Do not use a regular telescope or pair of binoculars to observe the Sun. You can obtain solar filters for telescopes and binoculars, but be careful. Buy filters only from reputable optic or astronomical companies. Contact your local telescope dealer for more information.
Eclipse Solar – Ven y Observa el Eclipse con Nosotros
Cuando: 21 de Agosto del 2017
Horario: De 8:30 a 11:45
Mejor Vista del Eclipse: 10:21 am
Donde: Enfrente del Planetario Tessmann (Colegio de Santa Ana)
Si aun no as tenido la fortuna de ver un eclipse solar… PREPARTE! Este Agosto podramos observar un eclipse parcial desde el sur de California!
En el Planeta Tierra, cuando la luna pasa entre el sol y nuestro planeta no solo obsturye el sol de nuestra vista pero tambien oscureze nuestros cielos momentariamente. El 21 de Agosto del 2017 la luna cubrira 62% del sol (desde nuestro punto de vista).
Deja que Santa Ana College y el Planetario de Tessman te ayuden a vivir la experincia del eclipse al maxmimo! Tendremos 2 telescopios (Coronado PST Solares) listo para que los aproveches en frente del planetario. Estos telescopios estan equipados para poder observar el sol sin dañar tus ojos. Tambien tendremos lentes especiales para poder ver el Sol directamente.
Tendremos pantallas con vistas del eclipse en otros estados mas al Norte, ya que se podra observar un eclipse total en sus localidades. Al igual tendremos astronomos, observadores del cielo explicando el fenomeno al igual para contester cualquier preguntas que puedan surgir.
El Planetario Tessmann se encuentra en el campus de el Colegio De Santa Ana entre la Calle 17 y La Avenida Bristol. Podras usar el estacionamiento del Colegio completamente gratis, tambien contamos con espacios para descapacitados. Podras encontrarnos en el mapa directorio del campus como Estructura M (Entre Edificios R y S).
AVISO – OJO, MUCHO OJO! Proteje tus ojos! Podras dañar tu vista si intentas ver el sol o un eclipse directamente! Porfavor usa lentes aprovados para observar eclipses, lentes para soldar Tipo #14, telescopios o binoculares solares!