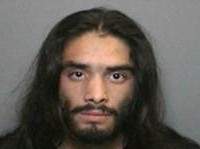 Do you remember Matthew Jacob Granados, the 22-year-old Santa Ana man who pleaded guilty to involuntary manslaughter in the accidental shooting death of a teenage boy and was sentenced to nearly a year in jail, or time already served behind bars, and five years of formal probation?
Well Granados has only a few months out of jail for involuntary manslaughter, but he is already in trouble again, this time for a conflict with the SAPD two years ago and for allegedly attacking a stranger with a baseball bat last month, according to the O.C. Register.
Trouble seems to run in the Granados family. Matthew Granados and his father, Alexander Christopher Granados, 42, as well as his 23-year-old half-brother, David Hernandez Jr., were all arrested for allegedly attacking three SAPD police officers on June 8, 2015, according to the SAPD.
The father and the older son were also charged with possession of marijuana while in the Santa Ana jail following the 2015 fight with the police, and the younger Granados was also charged with a misdemeanor count of possessing alprazolam pills while in custody.
The younger Granados was arrested again on Sunday, July 2, on a warrant charging him with resisting arrest and battery on a peace officer, among other counts, stemming from that case.
SAPD police officers found Granados yelling and screaming at cars were stopped near Hazard Ave. and Bewley St., at about 2 a.m. on June 11. Granados was also bashing his fists for unknown reasons on the cars, according to the SAPD.
At one point Granados broke the back window of a car with three passengers. When the  driver exited the vehicle, Granados attacked him but the victim was able to block his punch. But another man, who remains unidentified, handed Granados a baseball bat and he then attacked the victim with the bat.
The victim ended up at a local hospital where he was treated for lacerations and bruises. Granados now faces felony charges of vandalism, assault with a deadly weapon, battery and assault with force likely to produce great bodily injury, with a sentence-enhancement allegation of inflicting great bodily injury.
Granados apparently accepted a plea deal in his manslaughter case but is now looking at up to four years in prison if it turns out he violated his probation, according to the OCDA.
Before Granados fatally shot 16-year-old Alex Adrian Ramirez last Sept. 4, he was tried and acquitted of a carjacking charge. He was taken into custody two days later and was sentenced to 358 days in jail for the teen's death.
Granados and Ramirez were both sitting on a small sofa, dozing off, when the shooting went down. Granados was high at the time. He asked the boy to go pass out on a nearby bed but as the boy got up Granados grabbed the gun, which had been lying on his chest, and he accidentally triggered the weapon, at his home at the 3600 block of West Hazard Ave.
The police showed up just before midnight and found Ramirez bleeding from a gunshot wound to his upper torso. He later died at a local hospital.
Granados took off before the EMTs arrived and then his father lied to the police to help his son to avoid getting arrested. His father later plead guilty, last October, to being an accessory after the fact. Granados was sentenced to 80 days in jail, or time already served behind bars.