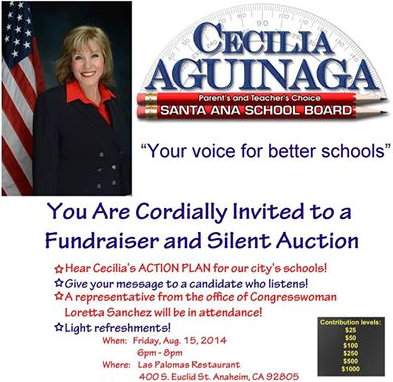 Cecilia Aguinaga is hosting a fundraiser and silent auction to benefit her campaign for the SAUSD School Board on August 15, 2014, at Las Palomas Restaurant, located at 400 South Euclid St., in Anaheim, from 6 pm to 8 pm.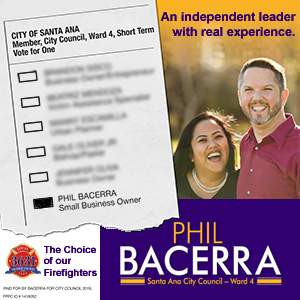 Cecilia was born in Jalisco, México and immigrated to the United States in 1978. She has lived more than 35 years in Santa Ana. Cecilia and her husband Armando have two sons (Ramsey and Allan) and a daughter (Sylvia). Ramsey was a police officer for the Santa Ana and Los Angeles Police Department, Allan graduated from the Culinary School of the Arts, and Sylvia graduated from University of California, Berkeley, is teaching for the Los Angeles Unified School District and is currently working towards her masters degree. Cecilia and her husband own a business in Santa Ana.
After helping her husband manage the business, Cecilia decided to do more to help children become successful in school. She started working for the District of Santa Ana in 1994 as an Instructional Teacher Assistant at the elementary level. She was promoted to a Bilingual Special Education Teacher Assistant at a high school level where she worked for 7 years. Then she was promoted as a Bilingual Community Worker, and later received a promotion as a School Police Parent Coordinator. She worked for the District of Santa Ana for 15 years before she was a victim of the budget cuts.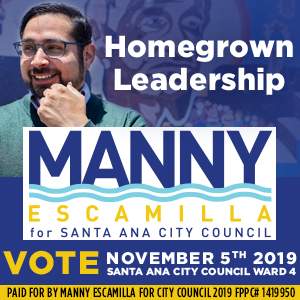 Mayor Miguel Pulido appointed her to the Human Relations Commission of the City of Santa Ana from 2004-2009. She served as a Chair and later,Vice Chair of the Human Relations Commission. Under this commission she presided over the selection of social services programs and funds, to improve the quality of life in the City of Santa Ana.
She was the first woman President of the Lions Club of the City of Santa Ana in their 85 years of history. This position enabled her to help the children of the City of Santa Ana with eye problems.
Cecilia served as President, Vice President, Parliamentarian, and she is currently a member of the PTA (Parent Teachers Association) Council for Santa Unified School District, to help the parents and children of this district. She is a past board member of the executive board for LYLI Latino Youth Leadership Institute organization, to help high school students become leaders.
Cecilia was also was very involved in school and community programs including:
• English Language Advisory Committee (ELAC),
• District Language Advisory Committee (DELAC) Puente,
• Advancement Via Individual Determination (AVID),
• Santa Ana High School Site Council,
• SAUSD Workability and Transition Partnership Program,
• Floral Park Neighborhood Association,
• Bristol-Warner Neighborhood Association,
• Central-Mid City Neighborhood Association,
• Delhi Neighborhood Association,
• Fairlawn Gardens Neighborhood Association,
• Comlink Neighborhood Associations
During her service with Santa Ana Unified School District (SAUSD) she has learned much about how to help our students.
She has served on many boards and committees that include:
• Public Relations Coordinator for the Executive Board Association of Mexican American Educators (AMAE);
• Santa Ana Unified School District Superintendent Classified Cabinet Representative,
• Santa Ana Unified School District Vice President of the Parent Teachers and Students Association (PTSA) at Santa Ana High School.
• Parent Teacher Association (PTA) Council, Historian and Parliamentarian for the Santa Ana Unified School District.
• CSEA cite representative and active member of her union to protect the rights of her fellow workers.
Cecilia graduated from Santa Ana College with a degree of Associate in Arts, Liberal Arts.
Cecilia has attended numerous trainings and workshops that aloud her to become knowledgeable and understand the law system to better help the Santa Ana Communities.
 Gang Prevention Conference (Washington D C)
 Site Council Conferences (Sacramento)
 PTA Conferencies (Sacramento, San José, etc.)
 CSEA Conferencies (Las Vegas, San José, Sacramento, etc.)
 Leadership Conferences (Las Vegas, Long Beach, Sacramento, Washington D C., etc.)
Cecilia currently served in the board of:
• OCVC (Orange County Vector Control), appointed by the mayor and the city council to represent the city of Santa Ana, this agency specifically dedicated to protect public health by controlling rats, flies, mosquitoes, and other vector related problems.
• Cecilia is an active member of YMT (Young Motivation Team) to motivate students pursued their education.
• Cecilia serves in the Executive Committee Board of the Regional Occupational Program (ROP) for the Santa Ana Unified School District. Under this position she is part of the decision maker to help students who doesn't want to pursue higher education.
• She is presently a member and served four years as a Secretary in the executive board of UMAVA (United Mexican American Veterans Association), to help and honor the veterans who fight for our country.
• Community Redevelopment Housing Commission Representing the City of Santa Ana, to help people who can't afford housing.