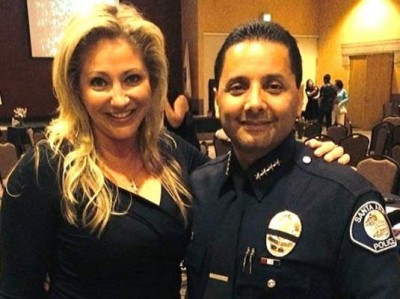 Santa Ana Councilwoman Michele Martinez was not challenged when she last ran for re-election in 2010.  She got just over 34K votes in that race according to Smart Voter.  But there were over 43K votes cast in that year's Santa Ana Mayoral contest, again according to Smart Voter.  That means 9K Santa Ana voters simply could not stomach voting for Martinez.  So they didn't vote for anyone in Ward 2 that year.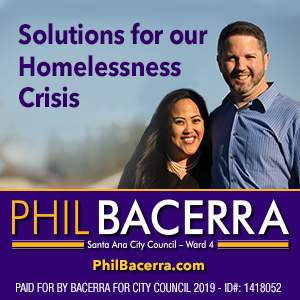 This year Santa Ana's voters will have a chance to vote for someone other than Martinez in Ward 2.  She is being challenged by Mirna Velasquez.  And Martinez better take her opponent seriously.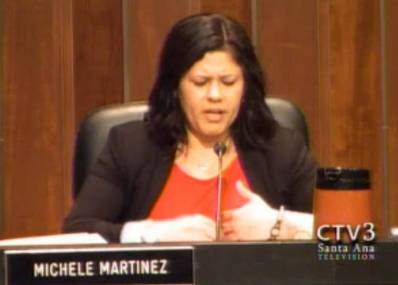 While I am still not sure exactly how Martinez is making a living, given that being a Santa Ana Council Member is a part time job, Velasquez' Facebook page indicates that she works for a local ministry and for a legal center.  I have been saying this for awhile – a Santa Ana candidate with that sort of background would do very well in a Council race – and now we will find out if I am right in this year's November General Election.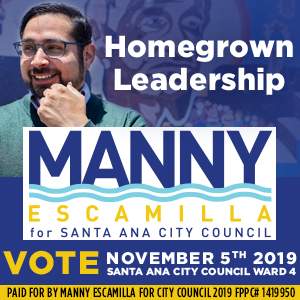 Will Martinez be able to raise money after the debacle that was her ill-fated campaign for the 69th Assembly District in 2012?  She lost in that year's Open Primary Election, to Tom Daly, who prevailed in Orange County's most Hispanic legislative seat because Martinez split the Latino vote with two other Latino Democrats – Labor consultant Julio Perez and unknown accountant Francisco Barragan.
The liberal wing of the Democratic Party abandoned Martinez for Perez.  And the moderates in her party lined up behind Daly.  Martinez was left in the cold, garnering 4,651 votes, according to Smart Voter.  Daly edged out the Latino Democrats with 10,939 votes.  Perez just missed making the General Election because of the 605 votes that Barragan got.  It is entirely likely that Daly put Barragan on the ballot – to split the Latino vote and ensure that Daly would prevail.
Martinez raised a small fortune in 2012 and spent it badly.  The centerpiece of her campaign was an expensive magazine type mailer about herself that went over like a lead balloon. Those mailers ended up in the trash – the only question now is if Martinez' political career is in the trash even now.
Will those who donated to Martinez in 2012 do so again?  I highly doubt it. Most likely she will be hung out to dry by the big donors.  And those donors may well have been punked back in 2008 as well when Martinez launched an ill-advised campaign against Mayor Miguel Pulido.  He soundly thrashed her in that election by over 14K votes according to Smart Voter.
Martinez won her Ward 2 Council seat in 2006 by 740 votes when Pulido's chosen candidate, Tony Flores, split the establishment vote with Com Link maven Evangeline Gawronski.  In hindsight Pulido should have rolled the dice with Gawronski but he didn't and Martinez squeaked into the winner's circle by a hair.
Martinez has never won handily with the exception of 2010, when she ran unchallenged, and she has lost twice badly.  Now she will be facing off against Velasquez, who has been working hard in Santa Ana for some time.
Velasquez and Martinez are mirror opposites. Martinez is a lifelong Democrat who went all in with Barack Obama in 2008 and in 2012.  Velasquez appears to be a Republican.  And while Martinez likes the high life, Velasquez is a person of faith who is dedicated to helping the community.  The contrast could not be greater.
Velasquez won't be running by herself.  Popular SAUSD Trustee Cecilia Iglesias is running this June against Daly and figures to make the General Election run-off.  And their fellow Latino Republican Carlos Vazquez is taking on the dreadful U.S. Rep. Loretta Sanchez over in the 46th Congressional District, which includes Santa Ana.  Vazquez should advance in the June election and while I doubt he can beat Sanchez he should be a real thorn in her side.  More importantly these Latino Republicans can and will help each other – walking precincts together, for example.
What about Martinez?  Many in her party abandoned her in 2012.  Will they help her now or will they focus on keeping Daly elected instead?  I am betting on the latter – plus remember that Jose Solorio is running for the 34th State Senate District. You can bet that his campaign will suck the oxygen out of the room – depriving Martinez of campaign donations and volunteers.
I am told that Santa Ana Mayor Pro Tem Sal Tinajero may be facing a challenger too this November.  We will keep our readers posted when we are able to confirm that.  If true you can bet that Tinajero, who always runs a large campaign, will focus on his Ward, and won't be in a position to help Martinez either.
You have to wonder what in the world Martinez will do if she loses in November.  Will anyone still want to hire her?