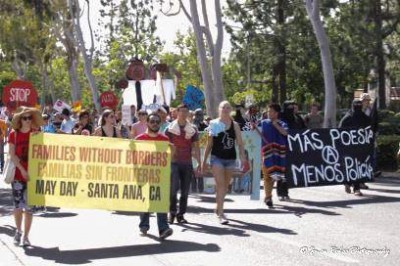 A protest by the OC May Day Coalition will take place at the Santa Ana City Council meeting on Tuesday, May 6, 2014, at 5:30 pm, regarding the contract between ICE and the SAPD.  The SAPD is paid to jail immigrants who are arrested.
Organizers ask that you "Come early to sign up for public comments and let the council know that we are tired of them paying off their debt at the expense of our hard working immigrant communities. Not 1 more! No mas deportaciones!"
The Orange County May Day Coalition is a community-centered coalition of organizations and individuals; member organizations include:
Chic@nas Unidos, El Centro Cultural de México, OC DREAM Team, OC Peace Coalition, Occupy Santa Ana, SEIU-USWW, OCIWW, and Tonantzin Collective
In 2011, the Coalition worked tirelessly to win a more just impound policy in Santa Ana, California. The issue of unjust towing became a battleground when cities such as Maywood and Montebello seized cars in immigrant communities to raise cash. In Orange County, Santa Ana impounds more cars at state-funded drunk-driving checkpoints than any other police agency.
Currently, OCMDC is working on ending the collaboration between ICE and the SAPD and stop the detention and incarceration of our family and friends.