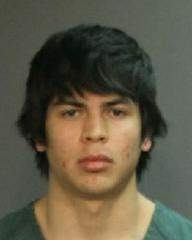 Santa Ana Police Department Advisory: Police arrest suspect for Cat Burglary
Officers contacted by a victim who reported he was in his room sleeping with his wife when he felt something touch his leg. He got up and saw a male he knows from his neighborhood sleeping at the foot of his bed. Victim got up and chased the suspect out of his house. A few hours later the victim realized some of his property was missing. The victim went to the suspect's residence in the 1200 block of W Highland and confronted the suspect and got his property (cell phones and a PS2 play station) back.
The victim then called the SAPD to report the crime. The victim directed the officers to the suspect identified as Ruben Diego Ortega (20) Santa Ana. The suspect Ortega admitted to seeing the window to the house open and decided no one was home and went in to see what he could steal. The suspect said he was crawling out of the house with the property and must have fallen asleep. Suspect was placed under arrest for CPC 459 Burglary and booked into the SAPD Jail. Police want to remind community members to be careful when leaving windows open at night. If you need to leave window open make sure they are not ones with easy access to potential burglars.
For full details, view this message on the web.