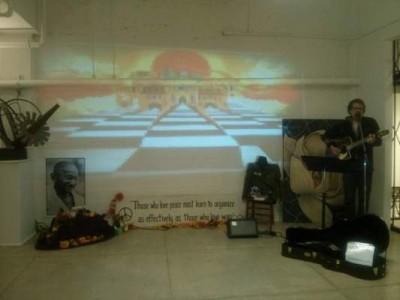 The Santora Mural may be gone but last night, during the Artists Village Art Walk, artists and supporters gathered to pay homage to the artwork, which was whitewashed by the new owner of the Santora building, Jack Jakosky.
The artists cleverly set up a projector to recreate the image of the destroyed mural, on the now white wall.  Someone set up a picture of famed Indian leader and freedom fighter Mahatma Ghandi.
Matt Southgate, the principal artist behind the mural, emailed a concluding statement on the mural after the homage, "Eradicating art works that are a source of community pride is an act of terrorism against the people. When are the wealthy elite going to face up to the consequences of their insensitive, callous and greedy behavior? Never! unless we force them to."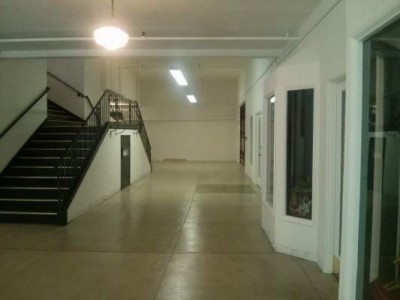 Southgate's studio, Studio del Sotano, was also whitewashed.
When I
first reported
about Jakosky's destruction of the Santora mural I pondered if he was going to replace it with paintings of "whales and dolphins."  I might not have been far off.  Apparently he has paid to install sea-inspired murals.
According to 
an article
dating back to 2000, Jakosky paid artist
Mia Tavonatti
to design nine mosaic murals, representing "The Peninsula," to beautify Newport Elementary School, which Jakosky attended and which his three kids also attended.  According to
the article
, the murals featured "A surfer riding the waves. Newport Pier at sunset. A trio of junior lifeguards racing down the beach."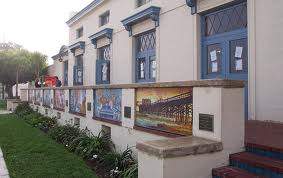 "The mosaics cost about $5,000 each. No school funds were involved. The money for the project came from private donors — including Councilman Tod Ridgeway, the Segerstroms and a number of community associations," according to
the article
.
Get this – Shannon is a big supporter of the
Sawdust Festival
, a non-profit organization in Laguna Beach that "celebrated and supports the work of local artists," according to their
Facebook Page
.  "The Sawdust Art Festival sets itself apart from Laguna Beach¹s other summer art festivals in that it is nonjuried, so it plays a vital role in supporting the careers of many local artists."
Miller Jakosky also appears to be a huge liberal, as per her
Facebook status updates
.  She is fixated on global warming and complaining about non-organic food. So how does Miller Jakosky feel about her husband whitewashing the mural at the Santora?  And is she the reason that Jakosky bought the Santora in the first place?  And when will they be commissioning murals about Newport Beach for the Santora building?  Or perhaps about sailing as a Google search of Jakosky revealed that perhaps his only passion in life besides his properties is underwriting competitive sailing teams.