December 18, 2013
6:00 pm
to
8:00 pm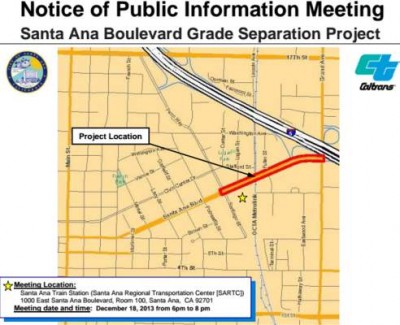 Notice of Public Information Meeting: Santa Ana Boulevard Grade Separation Project
Meeting date and time: December 18, 2013 from 6pm to 8 pm
The City of Santa Ana (City), in coordination with the California Department of Transportation (Caltrans) proposes to update the existing Santa Ana Boulevard/Orange County Transportation Authority (OCTA) Metrolink railroad crossing. This City project would:
lower Santa Ana Boulevard so that it would go under the railroad tracks; and,
includes the construction of a pedestrian bridge across Santa Ana Boulevard.
The project is intended to minimize potential conflicts between trains, vehicles, and pedestrians in the interest of safety.
The City of Santa Ana is holding an informational meeting to provide those living near the Santa Ana Boulevard railroad crossing, or those who routinely travel along Santa Ana Boulevard, a chance to view the proposed project and provide comments. A brief presentation describing the project will be made at 6:30 pm. Exhibits showing the proposed improvements will be available for viewing at the meeting. Comment cards will be provided for anyone who would like to comment on the project.
Location: Santa Ana Train Station (SARTC)
1000 East Santa Ana Boulevard, Room 100 (first floor of train station),
Santa Ana, California 92701
Date: December 18, 2013
Time: 6 pm to 8 pm
CONTACT For more information about this project please contact Jason Gabriel (714) 647-5664
or Monica Suter (714) 647-5645 at the City of Santa Ana Public Works Agency. You may also contact the general number at (714) 647-5662 .
This notice was sent to:
·          Downtown Inc – Jose  Romo
·          Latino Health Access –  Nancy Mejia
·          Tardif Sheet Metal –  Mike Tardif
·          Tobin Steel – Jim  Tobin
·          Waterline Technologies  – Kirk Buttermore
·          Santa Ana Chamber  President – David Elliott
·          St. Joseph Church –  Father Ed Becker
·          Communication Linkage  Forum Chairperson – Evangeline Gawronski
·          Downtown Inc – Bob  Stewart
·          SAUSD  Rob  Richardson
·          Garfield Elementary  School – Interim Principal Kasey Klappenback
·          French Park  Neighborhood Association – VP Jeff Dickman
·          Lacy Neighborhood  Association – President Jose Leal
·          Logan Neighborhood –  President Joe Andrade
·          Santiago Lofts –  President Sean Coolidge
·          French Park  Neighborhood Association – President Debbie McEwen
·          Orange County Register
·          OC Public Works –  Manager Corporate Real Estate Thomas Mason
·          OC Public Works –  Administrative Manager Michael Stein
·          Office of Supervisor  Janet Nguyen – Deputy Chief of Staff Matthew Harper
·          Orange County High  School of the Arts – Ralph Opacic
·          Santa Ana Unified  School District – Assistant Superintendent Joe Dixon
·          Office of Assemblyman  Tom Daly – District Director Matthew Hicks
·          California  Legislature, Senator Lou Correa, 34th Senate District, District Representative  Martha Ochoa Lopez
·          OCTA – Senior  Transportation Analyst Kelly Hart
·          OCTA — Manager  Capital Programs Jennifer Bergener
·          Century High School –  Principal Lucinda Nares-Pueblos
·          Sierra Preparatory  Academy – Principal Jeff Bishop
·          Office of  Congresswoman Loretta Sanchez – Field Representative Carlos  Urquiza
·          ETAC Chair — Don  Cribb
The notices were also sent out to the property owners and residents/occupants located within the 500' radius of the project in addition to the above supplemental list.