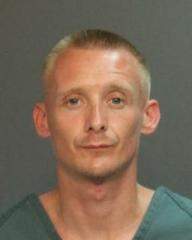 Santa Ana Police arrest Cat Burglary/Auto Theft Suspect
Arrested: Michael Anthony Skofield (29) Norwalk
Location: 600 Blk. E Jeanette Lane
On 9/3/2013 at approximately 1050 pm, the victims (husband & wife) were awakened from bed when their bedroom door open/shut. Shortly after getting out of bed, and exiting their home they heard their garage door open and observed their 2014 Mercedes Benz leaving the garage. They observed the suspect driving their vehicle as it drove south on Main from Memory Lane.

Officers tracked the vehicles GPS location in an attempt to locate the suspect. The vehicle was tracked to the area of Greystone and Imperial in (LA County). LASD –Norwalk station deputies assisted with the investigation. Officers tracked the vehicle to 11101 E. Imperial Hwy (Norwalk) and with the assistance of LASD, officers located the stolen vehicle and took Michael Anthony Skofield (29) of Norwalk into custody.
The vehicle and some of the victim's property were recovered. Suspect Skofield was identified by the victims as the person who broke into their home and stole personal items and their vehicle. Skofield was booked at Santa Ana Police Department Jail for CPC 459 Burglary and CVC 10851 Vehicle Theft.