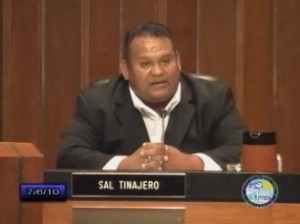 We have been looking this week at the publicly posted official calendars of our City Council Members, for the month of June, 2013.  So far we have determined that Council Members David Benavides and Angie Amezcua are barely present in their own Wards, while Council Member Michele Martinez is staying pretty active in her own Ward.  Now we turn to the calendar of Mayor Pro Tem Sal Tinajero, who represents Ward 6.
Tinajero met on June 3 with Beatriz Fernandez, of the Delhi Center, which is located in Ward 1.
He took a call from Jose Nieto on June 4.  Nieto runs an adult baseball league that is for-profit.  Tinajero made a decision recently to essentially oust Nieto's league after an upstart league run by a guy who works at the SAUSD horned in on the action.  Nieto says the new league is mostly full of men from Long Beach.  But he never sent me any proof of that.
On June 5, he met with Chief Scott Brown, of the Orange County Fire Authority.  I am told that Tinajero has only made it to one OCFA meeting in recent months, which means that his back-up, Amezcua, has been busy appearing in his stead.  The OCFA is embroiled in several big scandals right now – from a Brown Act violation involving a BBQ dinner for board members only, to threats by the City of Irvine to pull out of the OCFA as they have been getting systematically ripped off for years.  Tinajero did attend a Special Board Meeting of the OCFA on June 27.
He met with several representatives of SaCred recently.  That is a group largely dedicated to opposing development – they are mostly based out of Martinez' Ward 2.
On June 26, he met with Ryan Ogulnick, of Vineyard Development.

The Council approved their apartment development called "The Met" last year

– this is a complex of three five-story towers in the "South Coast" area, which is bordered by Wards 1, 4 and 6.
Tinajero did NOT go to the NALEO Conference in Chicago but he did go to the Santa Ana 4th of July event at Centennial Park, on June 30, which is in his Ward.
I know that Tinajero is very involved with the debate team at the public school he teaches at, in Fullerton.  He is also a Little League parent.  And I am told that he coaches in Pop Warner football.  So he is pretty involved in the community, but he did not attend any neighborhood association meetings in his Ward, in June and as you can see above he has been mostly disengaged from most civic and community affairs, with the exception of a few special interests.  He was only active on ten days in June.  I expected better from our Mayor Pro Tem.