July 17, 2013
10:00 am
to
12:00 pm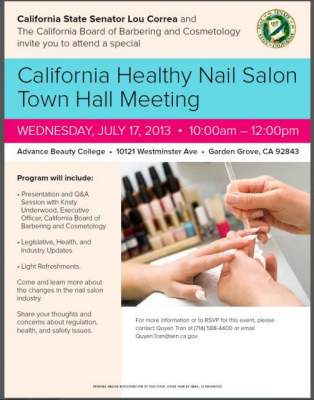 Senator Lou Correa Organizes California Healthy Nail Salon Town Hall
Santa Ana, CA – State Senator Lou Correa, in collaboration with the California Board of Barbering and Cosmetology (BBC) and Advance Beauty College, is hosting the California Healthy Nail Salon Town Hall. The event will take place on Friday, July 17th, 2013 from 10:00am to 12:00pm at Advance Beauty College located at 10121 Westminster Avenue, Garden Grove. 
The purpose of the workshop is to provide manicurists, salon owners, students from beauty colleges and others in the nail salon industry with a legislative updates and information on the health and safety regulatory requirements. In addition, agency representatives will provide information on how to comply with state standards to avoid citations, as well as the citation appeals process.
"State regulations are often very complex and confusing for business owners and for their employees. I have received many calls from constituents with questions and concerns about the rules and regulations surrounding the barber and cosmetology industry." said Senator Lou Correa. "That is why I thought it would be important and beneficial to organize this event so that businesses can get answers to their questions." 
 The California Healthy Nail Salon Town Hall will include a presentation and Q&A with Kristy Underwood, Executive Officer of the California Board of Barbering and Cosmetology; a legislative and health and industry update. Light refreshments will be provided. 
For more information or RSVP on the workshop, please contact Quyen Tran at Senator Lou Correa's District Office at (714) 558 – 4400.
Related Documents: